Wireless technology and big data make cities smarter at cost of diminished privacy
Global Times
1532282914000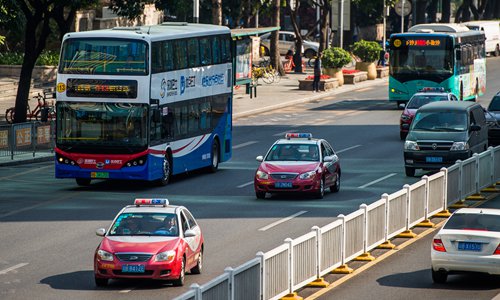 (Photo: Global Times)
Chinese cities are increasingly adopting "smart" technology to run more efficiently and make life for citizens easier.
Shenzhen, which is beside Hong Kong in South China, is building its first "smart road."
Chinese experts in urban design said that the nation is leading the world in using high tech such as artificial intelligence (AI) and big data in infrastructure construction.
Although some people have expressed concerns about a loss of privacy, this trend will continue going forward, despite problems encountered along the way.
Smart lamp posts
What will make Qiaoxiang road in Shenzhen "smart"?
First of all, according to local newspaper Shenzhen Daily, the street lamps. They will provide motorists with Wi-Fi signals.
Apart from Wi-Fi, the smart lamps also have a video recognition function, based on AI and a deep-learning algorithm, to allow the lamp to monitor the condition and traffic volume of the road.
For example, the lamps can tell if there are cracks, puddles or holes on the surface of the road or if manholes are properly covered.
There will also be extra spaces for installing more functions in the lamps in the future, including 5G and internet of things services.
Qiaoxiang Road's smart road surface will send real-time traffic information to servers that will use big data techniques to control traffic signals, making travel efficient and safe.
Digital police devices along Qiaoxiang Road will also be upgraded to realize "smart law enforcement."
Moreover, Bluetooth road reflectors with intelligent sensors will be installed on the road. The reflectors can be laid down as easily as placing a sticker and are powered by solar energy.
Construction on Qiaoxiang Road started June 15 and is expected to last eight months.
Leading the world
Shenzhen is only one of many Chinese cities that are working toward a smarter infrastructure.
In 2013, China's Ministry of Housing and Urban-Rural Development announced 90 pilot smart cities. By June 2016, more than 500 city governments had published their plans to become smart cities, according to industry news website chyxx.com.
In 2021, the annual investment in smart cities will reach 1.23 trillion yuan ($182.4 billion), chyxx.com reported.
Zhang Hanyu, a Chinese student who just graduated from a US university, told the Global Times that in China she can use bike sharing to travel around, a QR code on her phone to take the subway, or mobile phones to pay utility bills online.
"These are really convenient. In China there are more people and the market is larger, so more new functions are invented. In the US, the demand is relatively smaller, and supply as well," she said.
Zhang's feeling is echoed by Ma Tina (pseudonym), a Chinese woman living in Australia. "China's public transportation is becoming more and more fascinating."
"China is developing the fastest in building smart cities," Yin Zhi, dean of the Urban Planning and Design Institute of Tsinghua University, told the Global Times on Thursday.
Yin said that in China the government can lead the projects, so the facilities can be constructed and installed in a short time.
Meanwhile, Chinese people are more familiar and tolerant in accepting new technologies, including those that collect people's personal data, he said.
Smart infrastructure can maximize the efficiency of different infrastructure systems in the city, because data can be shared automatically, Yin said.
Knowing too much
However, problems remain with the rapid development.
In December 2017, the world's first photovoltaic highway was put into use in Jinan, capital of Shandong Province, but some of the solar cells were damaged and stolen within one week.
Privacy is another concern.
Zhang said, "Once I was talking about a bathroom scale with a friend on social media. Later, when I opened two other apps, they pushed advertisements for the very same bathroom scale to me."
Ma had similar experiences twice. "I felt I was being spied on by my phone. It was really creepy."
Yin noted that legislation and law-enforcement are needed to help with privacy protections when developing a smart city.
The next step for China is to upgrade its capability to analyze the information it collected, Yin said.
"Moreover, data should be shared among different government departments or other sections in society," he said.
Although problems exist, China will continue putting cutting-edge technologies in cities, he said.