China issues heart-shaped commemorative coins featuring auspicious culture
BEIJING, April 19 (Xinhua) -- Two heart-shaped commemorative coins, one gold and one silver, have been issued by China's central bank.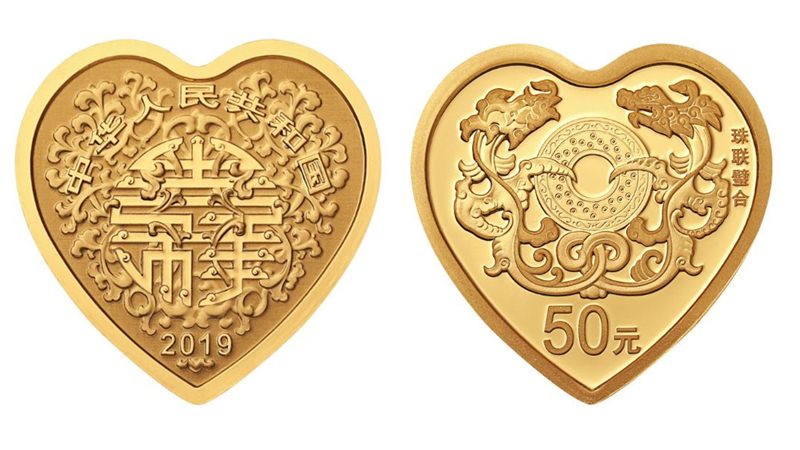 The front and back of the heart-shaped gold commemorative coin.
Chinese characters Jixiang, meaning auspiciousness, dominates the obverse of the two coins, while the reverse sides are decorated with traditional patterns such as a dragon, phoenix, lotus, jade and pearls, all symbols of auspiciousness and fortune.
Weighing three grams and 30 grams respectively, the gold and silver coins have a face value of 50 yuan (about 7.46 U.S. dollars) and 10 yuan separately.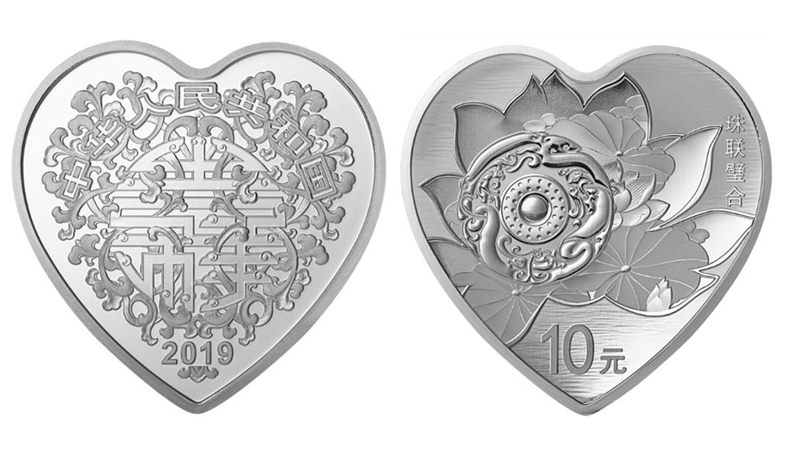 The front and back of the heart-shaped silver commemorative coin. (Photos: The People's Bank of China)
Apart from the pair, the new set of commemorative coins featuring China's auspicious culture also includes five round coins.
One silver coin, with a face value of 20 yuan and decorated with the patterns of pomegranates and chubby kids, symbolizes a big and prosperous family.
Another pair bearing the patterns of a cat, a butterfly, stones and auspicious flowers indicates longevity, while the other pair decorated with the images of magpies and plum flowers, symbolizes a joyful life.
The maximum circulation of the coins range from 5,000 to 20,000, and the set is available for sale since Thursday, according to a central bank statement.
These exquisite coins offer foreigners a glimpse into the Chinese way of giving auspicious greetings, especially the one using homonyms involving animals and plants to figuratively visualize idioms with auspicious meaning.
In the magpie and plum flower case, the magpie is the homonym of happiness in Chinese, and plum, eyebrow. When happiness appears on the eyebrows, one gets happy just as the idiom "Xi shang mei shao" describes. To visualize the greeting, Chinese painters have a tradition of depicting a magpie perching on a plum tree.
It is the fifth set of commemorative coins featuring China's auspicious culture since its first circulation in 2015, which visualize Chinese auspicious greetings with patterns and are valuable for collection, as the Beijing Youth Daily reported.
China's central bank plans to issue 13 sets of commemorative coins made with precious metals in 2019, including gold and silver commemorative coins featuring the giant panda, the 70th anniversary of the establishment of diplomatic ties between China and Russia, and the 2019 Beijing International Horticultural Exhibition.