Hong Kong reports 16 newly confirmed COVID-19 cases, 989 in total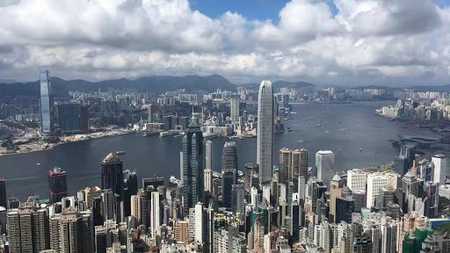 File photo: CGTN
HONG KONG, April 10 (Xinhua) -- Hong Kong's Center for Health Protection (CHP) reported on Friday 16 newly confirmed COVID-19 cases, bringing the total number of confirmed cases in Hong Kong to 989.
The new cases involve 16 patients aged between 17 and 75, Head of the CHP's Communicable Disease Branch Chuang Shuk-kwan said at a daily press briefing on Friday afternoon.
Among the 16 patients, 15 had a travel history during the incubation period, including eight students studying overseas.
The rest one patient is a 28-year-old male without travel history. His girlfriend used to go to a bar, and after the man's confirmation, his girlfriend has been tested for the coronavirus and is waiting for a test result now, Chuang said.
The CHP urged members of the public to maintain an appropriate social distance with other people in their daily lives, and go out less and avoid public gatherings in particular, in a bid to reduce the chance of contacting infected persons who may not present any symptoms, and minimize the risk of outbreak clusters in the community.
According to Hong Kong's Hospital Authority, among the hospitalized COVID-19 patients, 15 are in critical condition, and nine are in serious condition. A total of 309 patients have been discharged from hospitals upon recovery and 708 patients are under isolated treatment.