China able to cope with economic challenges: experts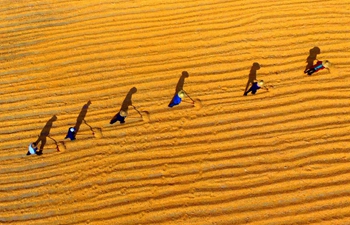 (Photo: Xinhua)
BEIJING, Oct. 21 (Xinhua) -- Despite challenges at home and abroad, China is able to maintain a stable economic performance with the help of pro-growth policies, experts said.
Latest data shows that China's GDP expanded 6.7 percent year on year in the first three quarters of 2018, with the growth rate slowing to 6.5 percent in the third quarter (Q3) from 6.7 percent in the second quarter.
While the pace signaled a trend of overall stability and steady progress, China faces more external challenges and rising downward pressure, according to the National Bureau of Statistics.
The slowdown in Q3 was a combined result of external headwinds as well as decelerated growth in domestic infrastructure investment, the financial research center at the Bank of Communications said in a report.
As China increased policy incentives from August to improve infrastructure, investment growth will likely recover in Q4, the report said.
"We are fully confident that China is able to achieve its annual growth target of 6.5 percent," it said.
China's economy is going through structural changes that many analysts said inevitably come with pains.
While fostering the growth of new drivers such as consumption and innovation, the country has remained committed to addressing existing issues, such as high financial leverage and pollution.
The key to striking a balance between maintaining growth and defusing financial risks is to properly implement the country's policies with supply-side structural reform at the core, said Vice Premier Liu He.
Policy makers have stepped up pro-growth measures, including a cut in the cash that banks must hold as reserves, more tax breaks for small and medium-sized enterprises, and faster approval and construction of infrastructure projects.
Authorities also unveiled new measures in September to further tap the country's residential consumption potential, with specific measures outlined to upgrade consumption.
Such measures, together with a revised individual income tax law, which lowers the tax burden for middle- and lower-income households, will help steady consumption growth in Q4, the Bank of Communications report said.
"As policies gradually get implemented, consumer demand has much room for further expansion," it noted.
Yan Se, an associate professor with the Guanghua School of Management at Peking University, said in addition to the policy measures to support consumption and infrastructure investment, the central government has notable flexibility in applying fiscal and monetary tools to keep the economy stable amid global fluctuations.
China's economy may seem to be in some difficulties from a short-term perspective or being viewed through specific cases. However, its development prospects are very bright when being judged from a historical perspective, Liu said.
"We will continue to implement the proactive fiscal policy, prudent monetary policy, explicit industrial investment policies, and more inclusive and sustainable social policies to further implement the core policy of supply-side structural reform," he said.