Expanding imports, the Chinese way to balanced global trade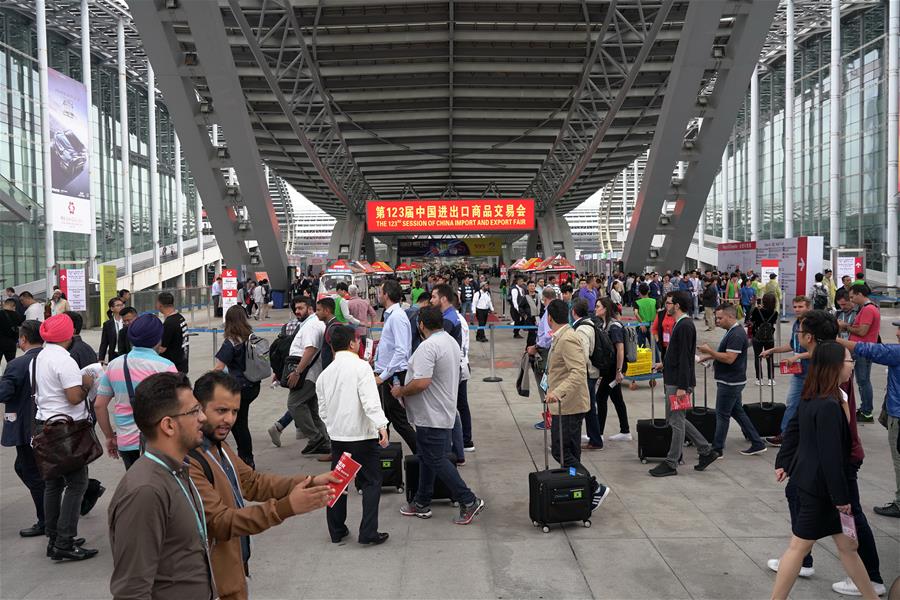 People visit the 123rd Session of China Import and Export Fair (Canton Fair) held in Guangzhou, capital of south China's Guangdong Province, April 15, 2018. (Photo: Xinhua)
Imports are under the spotlight this year at China's largest trade fair, the Canton Fair, as the country seeks to open its domestic market wider, despite growing protectionism across the world.
At the biannual fair, which just ended its first phase Thursday in south China's Guangzhou, a team of event organizers was busy handing out flyers to passersby, informing them of the opportunity to sign up for another international trade event, the China International Import Expo (CIIE).
To be held in Shanghai this November, the CIIE is part of China's broader efforts to expand imports and address the global trade imbalance.
At a time when protectionism and anti-globalization sentiment is rising elsewhere, China is opening its door wider to the world, with plans including importing goods worth 8 trillion US dollars in the next five years.
"China does not seek trade surplus and is continuously expanding imports," said Bai Ming, a researcher with the Chinese Academy of International Trade and Economic Cooperation. "This will bring new opportunities for other countries to share the market dividends of China."
The Canton Fair set up a special import exhibition area and attracted more than 600 international firms interested in getting a larger slice of the 8-trillion-dollar pie.
TOO BIG TO IGNORE
Forty years ago, Steven Yu first came to the Canton Fair at the age of 8 with his father, who was a buyer looking to source products from Chinese suppliers.
Yu, now president of Orient Fan Company, a licensed seller of heavy machinery giant Caterpillar Inc., is back at the fair as an exhibitor.
"Instead of buying, now we are selling," Yu said.
The company is looking for a distributor to sell Caterpillar fans and heaters in the Chinese market, where Yu sees increasing demand as people's incomes rise.
"The Chinese economy is quite stable. It's actually very good compared with other countries. For Chinese consumers, buying import products is not an issue," Yu said.
The company will apply for more exhibition space to showcase more Caterpillar products in the next session of Canton Fair. It also applied to attend the CIIE in Shanghai, according to Yu.
While some certain countries have used allegations of improper intellectual property practices as an excuse to block imports into China, for many multinationals, the Chinese market is just too big to ignore.
Nearly half of Caterpillar's sales increase last year came from construction industries, and China was a "very important" contributor, Caterpillar Inc. CEO Jim Umpleby said in a previous interview with Xinhua.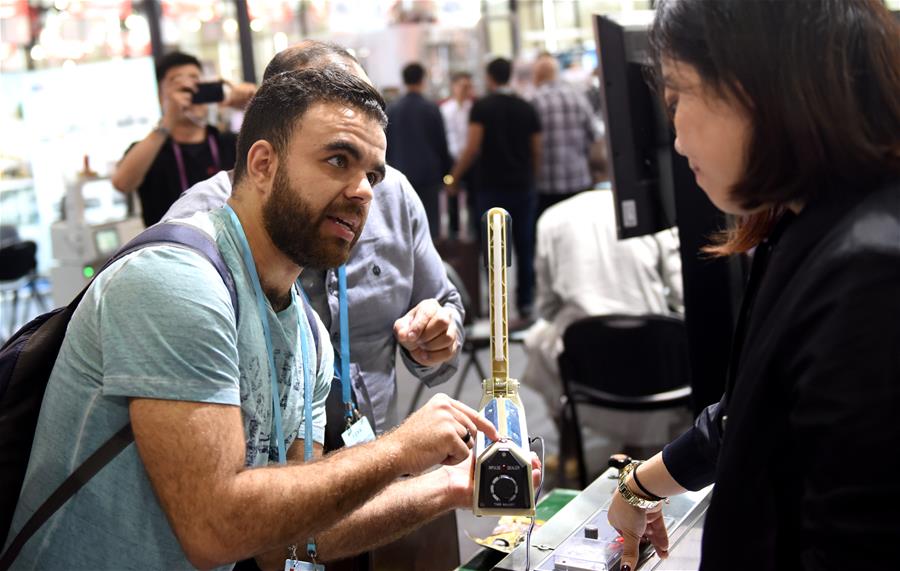 A visitor inquires about an impulse sealer at the 123rd Session of China Import and Export Fair (Canton Fair) held in Guangzhou, capital of south China's Guangdong Province, April 15, 2018. (Photo: Xinhua)
CONSUMPTION UPGRADE
Unlike many multinationals, which eye the Chinese market for its size, small and medium-sized companies around the world are trying to cash in on a new trend in the Chinese market: upgraded consumption.
At the import exhibition zone at Canton Fair, Chinese buyers gathered around booths displaying foreign-made consumer goods such as Japanese beauty devices.
Yue Rui, a sales representative of Aquapick Co, Ltd., an oral health device maker based in the Republic of Korea, said the Chinese market has a lot of potential for growth, as more Chinese are becoming more health-conscious.
More than 30 percent of the company's sales came from China last year, with online sales a big boost to business, Yue said.
A study by the American Chamber of Commerce in South China showed that among surveyed member companies with established operations in China, half of them earned more than 30 percent of their global revenue in China in 2017.
More than half of the surveyed companies are firms with fewer than 250 employees, according to the study.
For these smaller firms, competition with Chinese players is inevitable, but Yue said innovation is key to winning market share.
"We have to improve our product quality while staying competitive in terms of price," Yue said.
As China transitions into a consumption-driven economy, demand for high-quality products and design is on the rise, bringing opportunities to innovative foreign brands.
Latest data from the National Bureau of Statistics showed that China's retail sales growth accelerated to a higher-than-expected 10.1 percent in March from 9.7 percent in January-February.
Final consumption contributed 77.8 percent of the economic growth in the first quarter, up from 58.8 percent last year.
People visit exhibition booths at the 123rd Session of China Import and Export Fair (Canton Fair) held in Guangzhou, capital of south China's Guangdong Province, April 19, 2018. (Photo: Xinhua)
SHARED FUTURE
China's initiative to expand imports will bring shared benefits to many developing countries, analysts said.
Xiao Yaofei, a professor with the Guangdong University of Foreign Studies, said China is distinct from many countries as it is both the world's biggest consumer and producer in many fields.
That means China does have demand not only for finished goods, but also for potentially parts and components in the industrial supply chain.
As labor costs rise and the industrial structure improves, many Chinese companies could develop a global supply system, increasing demand for imports from some developing countries, Xiao said.
Kundan Talwar, director of Rexnord Electronics and Controls Ltd., an Indian manufacturer of fans and motors, said though his company currently doesn't have many orders directly from Chinese companies, his business can get help from China as many Chinese firms are pushed to import some components from India over labor cost concerns.
"I don't see this in the near future, but it could happen," Talwar said.
Many buyers from developing countries have seen the CIIE due in Shanghai as an opportunity for their products to become known in the Chinese market.
Rodrigo Aballay, director of Chile's Asian Institute of Culture and Business, came to the Canton Fair with more than 100 Chilean companies.
Aballay said he expected a delegation of Chilean companies to attend the CIIE in November, bringing products, services, and tourism.
"The Shanghai import expo brings us balance. For many years we have bought here. Now we can offer," Aballay said.