China's foreign trade maintains stable growth on sound economic fundamentals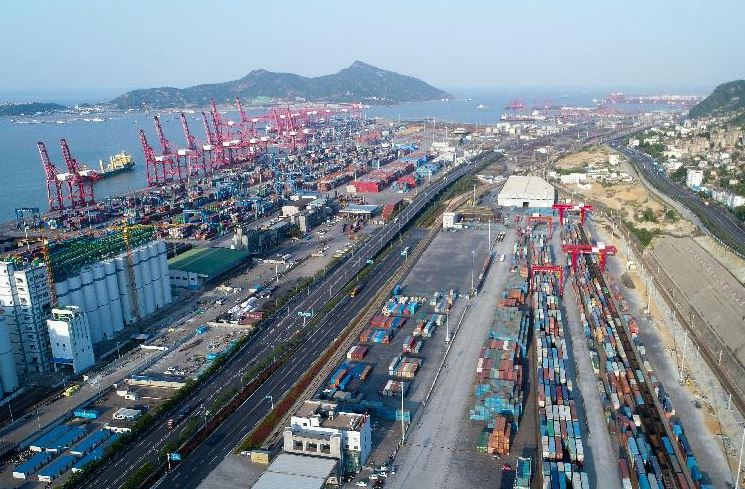 (Photo: Xinhua)

BEIJING, April 12 (Xinhua) -- China's foreign trade registered stable growth in the first quarter thanks to a robust performance in March, as the country's sound economic growth supported supply and demand.
China's foreign trade of goods climbed 3.7 percent year on year in Q1 to 7.01 trillion yuan ($1.04 trillion), the General Administration of Customs (GAC) said Friday.
Exports increased by 6.7 percent year-on-year to 3.77 trillion yuan in the first three months, while imports went up by 0.3 percent to 3.24 trillion yuan, the GAC said.
The stable growth was partly driven by a rapid increase in trade volume in March, which jumped by 9.6 percent year on year to 2.46 trillion yuan, said Li Kuiwen, spokesperson for the GAC.
Exports surged by 21.3 percent in yuan terms last month, while imports dipped by 1.8 percent, GAC data showed.
China's economy has maintained stable growth this year, with economic indicators such as the manufacturing purchasing managers' index for March pointing to upward momentum, which provided a sound environment for trade growth, Li said.
"We believe the economic fundamentals are solid," Li said, adding that the country would continue to promote balanced trade, with pro-import events such as the second China International Import Expo scheduled in November.
The growth was also driven by mild increase in prices, which climbed by 3.5 percent for imports and 4.4 percent for exports in Q1, Li said.
The exchange rate of Chinese currency yuan was generally stable in Q1, also contributing to the stable growth, he added.
In Q1, exports and imports of products under the general trade category rose 6 percent year-on-year to 4.17 trillion yuan, accounting for 59.6 percent of the total foreign trade, 1.3 percentage points higher than the same period last year, customs data showed.
China's trade with the European Union, ASEAN countries and Japan increased 11.5 percent, 8.1 percent and 3.2 percent, respectively, while trade with countries along the Belt and Road registered faster-than-average growth, with the combined trade volume standing at 2 trillion yuan, up 7.8 percent year on year.
"The potential for trade cooperation between China and other Belt and Road countries has been unleashing, which is becoming a new driver for China's trade growth," Li said.
He expected that the country's foreign trade will maintain mild growth in the second quarter.
To keep trade stable, the GAC will continue to implement policies to improve customs efficiency and cut compliance costs in exports and imports, Li said.