Artificial nests on power poles ensure bird safety, power transmission on plateau
XINING, April 18 (Xinhua) -- More than 2,000 artificial nests will be installed on power poles scattered in a nature reserve on the Qinghai-Tibet Plateau this year to protect wild birds and ensure electricity transmission.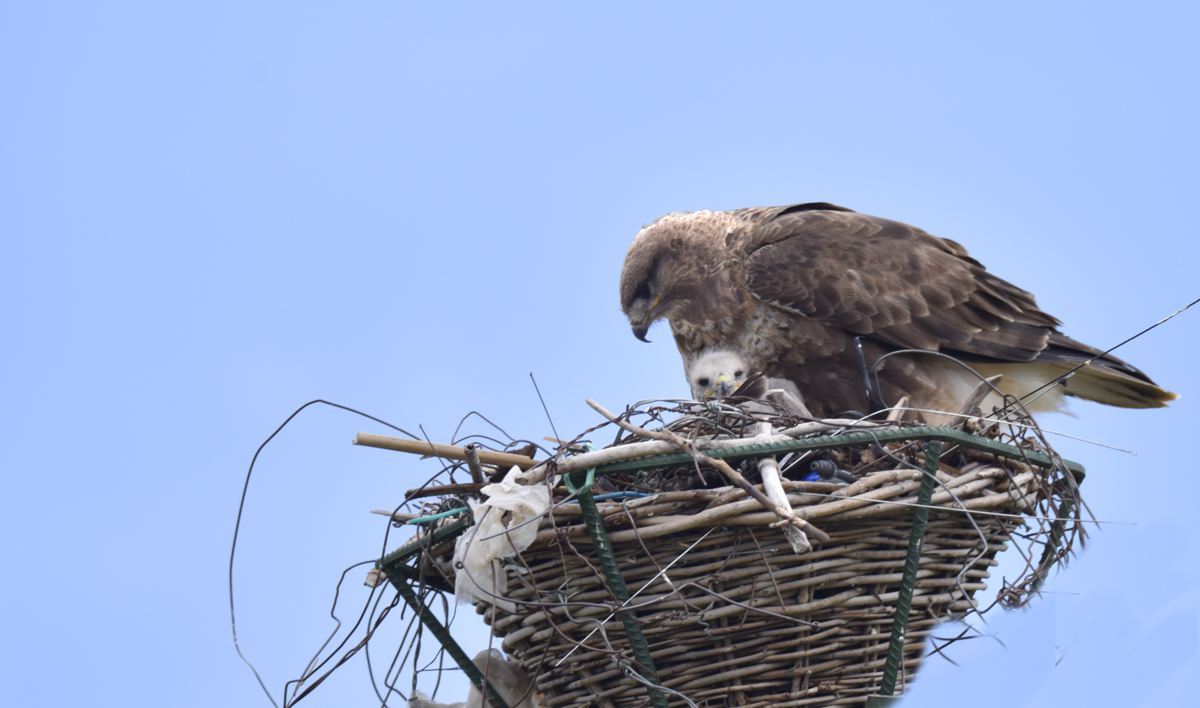 A bird nest in Yushu, Qinghai Province. (Photo: 163.com)
The Longbao National Nature Reserve is located in Yushu Tibetan Autonomous Prefecture in northwest China's Qinghai Province.
Standing at an average altitude over 4,000 meters above sea level, Yushu has poor infrastructure due to the harsh climate and natural environment.
"In the past, most areas of Yushu were almost completely dark at night. Very few lights could only be seen in towns powered by small hydropower stations," said Tashi, a local resident.
In 2010, a magnitude-7.1 quake had also severely damaged Yushu's fragile power grid.
In post-disaster reconstruction, Yushu invested heavily in its power facilities to guarantee local electricity supply.
With an investment of more than 5 billion yuan (747 million U.S. dollars), 155 villages of 46 towns in the prefecture finally have a stable access to power, said Chen Yun, vice general manager of Yushu electricity supply company.
However, wild birds in the areas were unexpectedly killed or injured due to the high voltage, and short circuits caused by birds were frequent.
"Birds of prey like to make nests high in trees or on cliffs. Since grasslands on the plateau lack tall trees, power poles become their ideal places to make nests or perch on. But many birds including buzzards and falcons were electrocuted," said Han Xuesong, a member of a local wildlife protection NGO.
The NGO said around 10 birds were electrocuted per kilometer of powerline in the area. Power facilities pose fatal risks for birds and affect bird habitat.
To prevent birds from getting hurt, and simultaneously ensuring power supply, the local power and environmental departments have hatched several plans.
In the beginning, the company tried to install devices to scare the birds through sound and light. In 2016, the company invested over 3 million yuan to upgrade powerlines with insulating material.
In 2017, the company launched a bird protection project, investing 290,000 yuan (43,000 U.S. dollars) to construct 16 points for birds to roost on and installing 30 artificial nests on power poles.
"Birds were found carrying twigs, as well as iron wire, to build nests. But iron wire often causes short circuits on rainy days. So we check and clean bird nests during our routine patrols," said Bao Yongbin, head of the operation and maintenance department of the company.
After many attempts, technicians tailored bamboo nests for the birds. With a depth of 40 centimeters and 50 centimeters in diameter, the nests have been fixed on the top of power poles, 90 centimeters higher from the electrified parts, which allow birds to fly safely.
The project has gained support from local herdsmen, who have taken part in the installation of the artificial nests with the company.
In April 2018, another 200 nests were built. Nearly 60 percent attracted birds and 32 chicks were hatched in 14 nests, Bao said.
The mortality of birds caused by electrocution has seen declining ever since. The number of birds getting electrocuted per kilometer of powerlines has dropped to one. Short circuits caused by birds have reduced from 36.5 percent to 7 percent, the company said.
The company said 1,000 artificial nests on its 10-kilovolt transmission lines are under construction. Another 1,300 nests are expected to be installed on its 35-kilovolt transmission lines this year.
It plans to observe the artificial nests online and analyze their impact on the local ecology.
"The artificial nest project has properly balanced the relationship between natural conservation and social development, allowing humans and birds to co-exist in harmony. As one of areas with the most fragile environment across the world, the solution is of global significance to biodiversity," said Samdrup, a local ecology official.