Reducing birth defects to zero
chinadaily.com.cn
1600057899000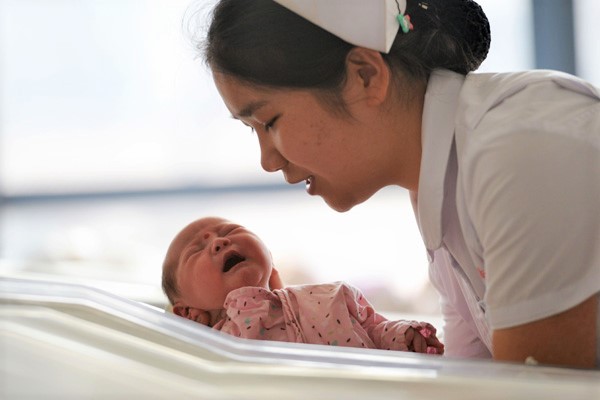 A nurse takes care of a newborn baby at Gansu Provincial Maternity and Childcare Hospital in Lanzhou. (Photo: Xinhua)
With China deploying more resources to facilitate technology innovation in healthcare sector to support the "Healthy China 2030" strategy, Beijing-based China Population Communication Center and its partners launched Zero Birth Defect Plan 2020 at China's birth defect prevention day on Saturday to further popularize the basic knowledge and skills of maternal and infant health care.
The Zero Birth Defect Plan 2020 – journey of a healthy pregnancy series science popularization and education activities, hosted by China Population Communication Center, undertaken by China Medicine Education Association and supported by Bayer Consumer Health was officially launched through live broadcasting on Xinhuanet.
This is the second consecutive year for this event to be held since the Zero Birth Defect Plan 2019.
According to the center, China is among the countries with the highest incidence of birth defects, with up to 900,000 new cases of birth defects every year and the annual economic loss caused by birth defects in China exceeding 20 billion yuan ($2.93 billion).
The Zero Birth Defect Plan 2020 aims to harness the power of companies, society and families to further popularize the essential knowledge and skills of maternal and infant care and actively promote tertiary prevention measures, so as to improve maternal health literacy and prevent birth defects, said Shi Qi, deputy director of China Population Communication Center, adding the program will leverage "Internet + new media" to provide online science live broadcasting and offline free medical consultation.
In the next four months, Shi said this program will fully release the power of information technology and new media, and invite a number of senior physicians to carry out science popularization and education on the themes of peripartum nutrition management, baby without birth defects, nutrition management during pregnancy preparation period, prevention and management of pregnancy complications via four micro classes and seven live broadcasting sessions.
In the meantime, we will organize experts, primary women healthcare related medical workers and drugstore clerks to carry out scientific popularization lecture tours, pre-marital check-ups and free medical consultations in seven cities with the highest number of births each year in China, including Beijing, Shanghai, Shenzhen, Jinan, Nanjing, Fuzhou and Changsha, she said.