Hainan Airlines ranked 8th in SKYTRAX World's Top 10 Airlines Ranking
LONDON, June 18 (Xinhua) -- SKYTRAX, a Britain-based consultancy which runs an airline and airport review and ranking site, on Wednesday announced the winners of the 2018 SKYTRAX World Airline Awards. Hainan Airlines was ranked eighth in the World's Top 10 Airlines of 2018, becoming the first Chinese mainland's airline to win the honour for the second year in a row.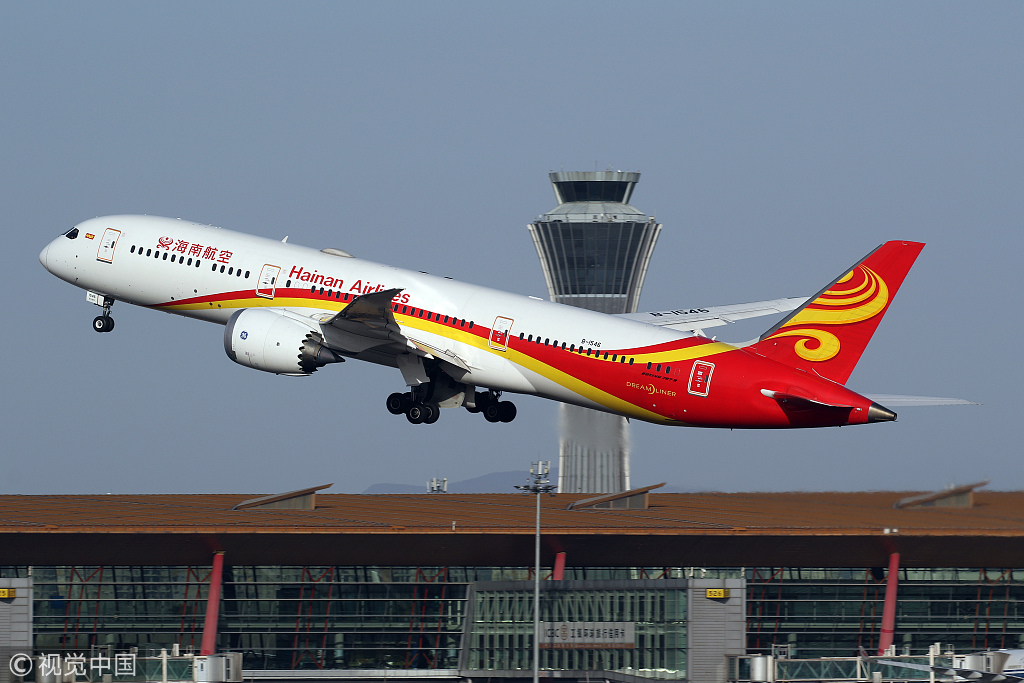 Photos: VCG
Hainan Airlines was also named a SKYTRAX Five-Star Airline for the eighth consecutive year, in addition to being awarded Best Business Class Amenities, Best Airline China, and Best Airlines Staff in China designations.
Singapore Airlines has been named the world's best airline for the fourth time in the annual World Airline Awards.The carrier also took out the awards for best first class, best airline in Asia and best first class seat.

Singapore Airlines knocked off last year's winner, Qatar Airways, for the top spot. Asian airlines dominated the list, with seven of the top 10 coming from the region.

During the award ceremony, SKYTRAX chairman Edward Plaisted said Hainan Airlines is one of the world's fastest growing airlines.

"In addition to being at the vanguard of aviation services, Hainan Airlines regularly receives positive feedback from global travellers as the brand continues to enhance its position in the market," he said.

HNA Group Chairman Chen Feng said winning the SKYTRAX Five-Star Airline award for the eighth consecutive year and reaching eighth place in the SKYTRAX World's Top 10 Airlines ranking is a testament to the quality of Hainan Airlines' service and tireless commitment to achieving the highest standards of flight safety.

"With its roots in China, Hainan Airlines is committed to becoming one of the world's top airlines and a globally recognized iconic Chinese brand," Chen said.

SKYTRAX is a prestigious global provider of research and consulting services with a focus on airline and airport services, which publishes an annual ranking of the world's airlines and airports and is highly recognized by industry players and travellers around the world.

The selection of SKYTRAX World's Top10 Airlines is based on a poll of 24.45 million travellers from over 100 countries and regions. The SKYTRAX awards are considered the Oscars of the aviation industry.

The compilation of the list is based on a comprehensive airline passenger satisfaction survey which asks passengers to rate every aspect of an airline's products and services, in-flight entertainment and onboard food services as well as other facilities and services.