Cambodia-China joint COVID-19 fight an outstanding model of cooperation: Cambodia's ruling party spokesman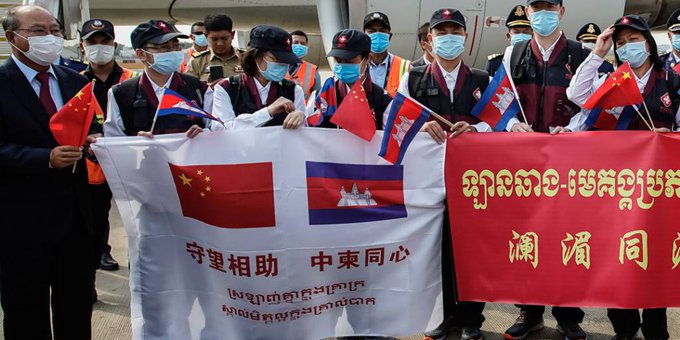 Chinese medical team arrives at Phnom Penh International Airport on March 23 (Photo: Chinese Embassy in Cambodia)

PHNOM PENH, April 19 (Xinhua) -- Cambodia and China's joint COVID-19 fight is an outstanding model of cooperation and a positive step towards building a global community of shared future, said a Cambodian ruling party spokesman.
In a recent interview with Xinhua, Cambodian People's Party (CPP) spokesman Suos Yara said that when China was facing the most difficult time in combating the COVID-19, Cambodian Prime Minister Samdech Techo Hun Sen made a special visit to Beijing on Feb. 5 to voice the kingdom's full support for China's fight against the virus.
When the situation of COVID-19 in China has stabilized, China has recently dispatched medical experts and supplies to Cambodia and other countries to help fight the pandemic, he said.
"A friend in need is a friend indeed," Yara said. "The presence of Chinese doctors has given us not only confidence but also warmth to the Cambodian doctors and people."
"This is an outstanding model of cooperation and a positive step towards the success in building a global community of shared future," he added.
Yara, who is also a member of parliament, said the Chinese doctors had brought to their Cambodian counterparts medical skills and techniques, experiences and practices of the laboratory management, outpatient management, strategies and plans to prevent and treat patients as well as the setting up of a remote health consultation system.
"It bares fruitful results as we can see that Cambodia has since the first stage taken an effective prevention measure to contain a possible spread in community level," he said.
Cambodia has so far recorded a total of 122 confirmed cases of the COVID-19, with 105 patients cured, according to a Ministry of Health statement on Sunday.
"As of today, most of the COVID-19 patients in Cambodia are imported cases from overseas," he said.
Sharing his view on China's strict measures to contain the COVID-19, Yara commended the Chinese people for their willingness to stay in the same boat and for their mutual support in the fight against COVID-19, and especially the people of Wuhan city for their cooperation during the lockdown.
"These measures have provided an example for all the nations in the world regardless of race, color, and geography to follow and apply," he said, adding that this was a brave and sharp decision to protect the lives and welfares of the Chinese people, despite having to sacrifice a heavy loss to the economy.
He said this decision has not only helped curtail the COVID-19 crisis in China, but it has also bought time for other countries to prepare themselves in devising response measures in a timely manner.
"It is also a test of the strength of China's internal solidarity," Yara said.
China has shared its own experiences in the fight against COVID-19 with the international community and has provided medical equipment to many countries, he said, adding that these indicated China's high responsibility for the world's development and building a shared future of humankind.
"The experience China has learned in combating the virus is truly vital for China itself as well as for other countries around the world," Yara said.
Given the uncertainty in the global situations, China's role is becoming increasingly important in multilateral system leadership and in the promotion of bilateral, regional and global trade, he added.
Commenting on China's economic situation this year, Yara said that despite the slowdown, China is still the locomotive to pull the world economy.
"I remain optimistic that the economy of China will continue to recover gradually and will remain strong, despite a relatively slow recovery of the global economy," Yara said. Enditem