Guangdong police make major smuggled oil seizure
chinadaily.com.cn
1564061323000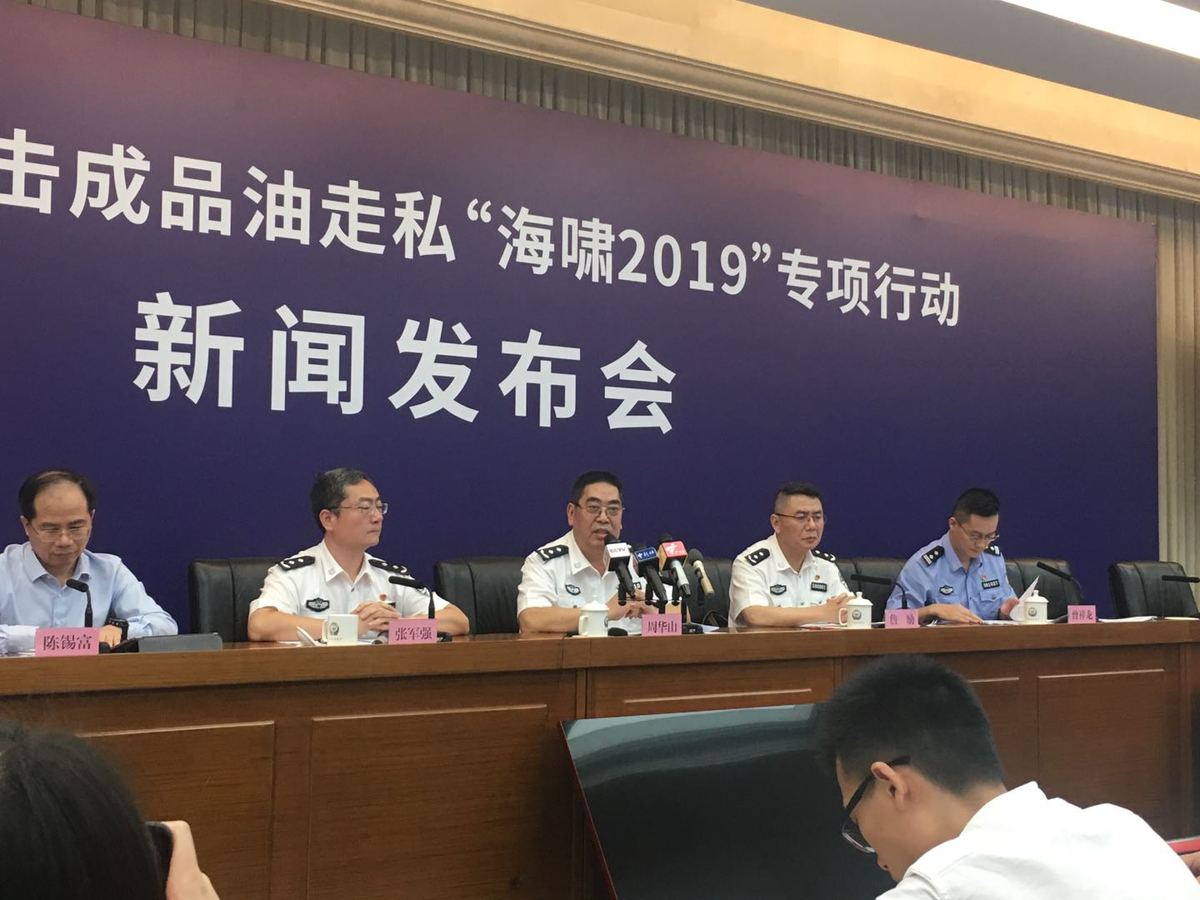 Zhou Huashan (center), senior police officer in charge of Guangdong Provincial Department of Public Security's anti-smuggling bureau, said his bureau will prioritize the fight against refined oil smuggling in the coming months. (Photo by Zheng Caixiong/chinadaily.com.cn)
Police in South China's Guangdong province have seized more than 170,000 metric tons of smuggled refined oil in a special crackdown campaign launched in May, said a senior police officer on Thursday.
"More than 280 suspects were detained and 20 criminal gangs have been busted in the campaign named Haixiao, or Tsunami, 2019," said Zhou Huashan who is now in charge of Guangdong Provincial Department of Public Security's anti-smuggling bureau.
Local police have also seized more than 190 vehicles and a number of vessels used to smuggle refined oil, he said.
At least 200 secret gasoline filling stations were raided in the southern province during the campaign that will last till the end of October, Zhou said.
"Haixiao 2019 has dealt a heavy blow to the refined oil smuggling that used occur in the province, one of the country's economic powerhouses, since the beginning of the year," Zhou told a news conference in Guangzhou, Guangdong's provincial capital.
He said that the Guangdong police will not stop fighting refined oil smuggling in the months ahead, despite their achievements.
Refined oil smuggling has this year been one of the top priorities of the anti-smuggling bureau, Zhou said.
Police on July 10 detained 168 suspected gang members after busting 12 secret gasoline filling stations in Foshan, Zhongshan, Dongguan and Maoming cities in Guangdong, Changsha in Hunan province and Nanning in Guangxi Zhuang autonomous region.
Police seized 108 vehicles and two vessels the gang used to smuggle oil, as well as more than 2,600 metric tons of smuggled gasoline.
The gang is thought to have sold smuggled gasoline and diesel valued at more than 1.2 billion yuan ($175.18 million) in recent years.
Police in Zhanjiang, a port city in western Guangdong, on May 29 detained 49 suspects after busting five criminal gangs that used to smuggle refined oil in the western Guangdong coastal areas.
The gangs are thought to have smuggled more than 160,000 metric tons of refined oil into Guangdong in the past few years.
Chen Xifu, assistant to the general manager of Sinopec Guangdong Oil Product Co, said the campaign has helped maintain a sound refined oil market in Guangdong and protect of oil companies' legal interests.