Snowstorms on course to move southward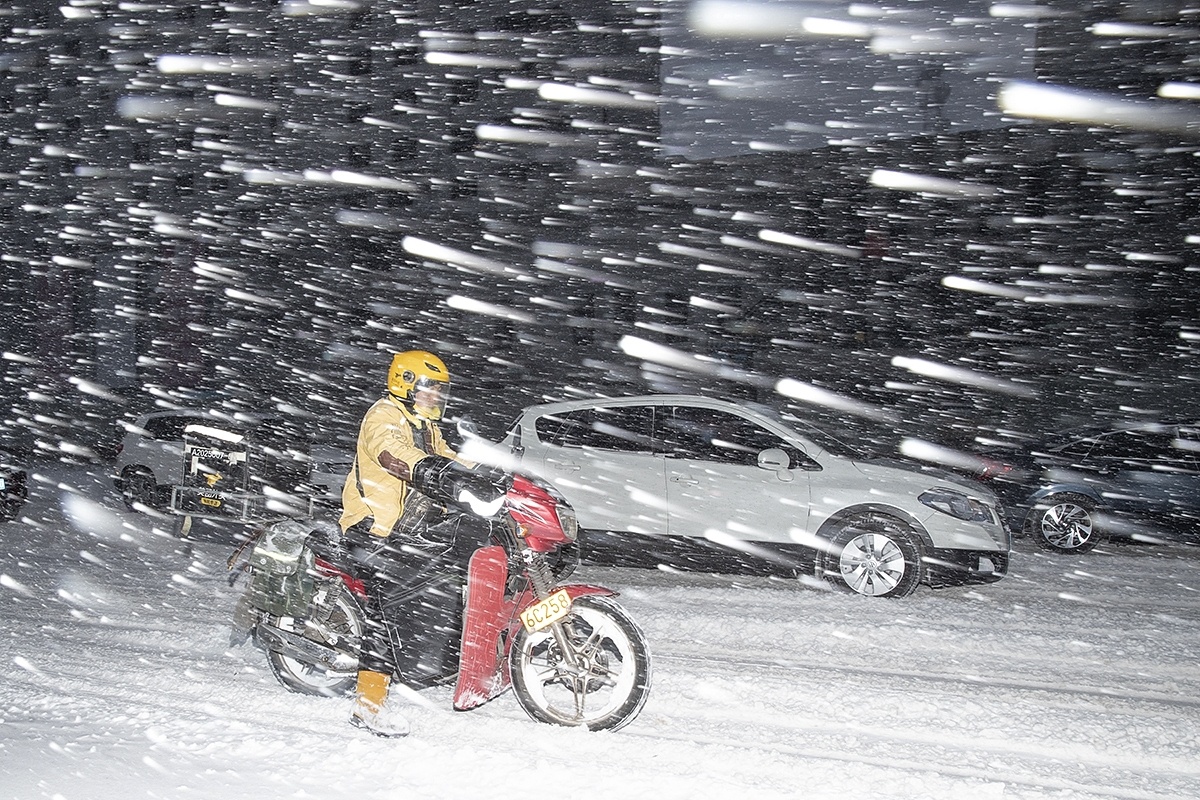 Snowstorms and sleet that have snarled commutes, cut power and closed schools in Northeast China and the Inner Mongolia autonomous region since Wednesday will taper off and move southward to some parts of northern and northwestern China starting from Friday, the National Meteorological Center said.

By Thursday, parts of Northeast China had seen snowfall of up to 20 centimeters, said the center, which issued an orange alert for heavy snow, the second highest level in the four-tier warning system.
Snowfall disrupted traffic in Jilin and Heilongjiang provinces.
On Wednesday, three metro lines in Changchun, capital of Jilin, had been halted due to frozen power supply networks and tracks, the city's rail group said.
By press time on Thursday, snow had caused 126 flight cancellations at Changchun Longjia International Airport and 265 flights were canceled at Harbin Taiping International Airport.
About 30 train services to or from Heilongjiang province were suspended due to the poor weather, China Railway Harbin Group said.
Due to the freezing conditions in Changchun, power was cut off to around 660,000 households in the city on Wednesday. The State Grid Changchun Power Supply Company sent about 750 workers to restore power, the city government said.
Middle and high schools and kindergartens in downtown Changchun closed for one day on Thursday and schools in Harbin will be shut until next week, according to the local governments.
Song Shengzhi, a sanitation worker for Harbin's sanitation bureau, said he and his colleagues had gathered at 2 am on Thursday before the heavy snow fell.
"We got ready with cotton shoes and warm down jackets to combat the accumulated snow. The snow kept falling while we were clearing it up. Staying outside doesn't chill me because I am even sweating now from the hard work," he said.
More than 30,000 sanitation workers and over 2,000 snow removal vehicles were mobilized to ensure road safety in the city.
The National Meteorological Center said snow will continue to lower temperatures by 8 to 10 degrees, but will taper off from Friday through Sunday. The snow system will move toward Northwest and North China, including the Xinjiang Uygur and Ningxia Hui autonomous regions, Beijing and Gansu province. Heavy rainfall is expected in some areas.
Fang Chong, the center's chief forecaster, said: "The warm, humid air from the southwest brought water vapor to northern and eastern areas and met the cold air coming from the north. The clash between the two has become fierce these days."
In South and East China, however, temperatures have hit a record high for November at 40 monitoring stations, the center said.
Jiangxi, Jiangsu and Guangdong provinces will see temperatures above 30 C from Thursday to Saturday.
As for the polarizing weather conditions, a popular comment on Chinese social media is that China is such a big place that people in the south live in the summer while northerners experience winter.