Inbound mergers and acquisitions market surges to record high in 2018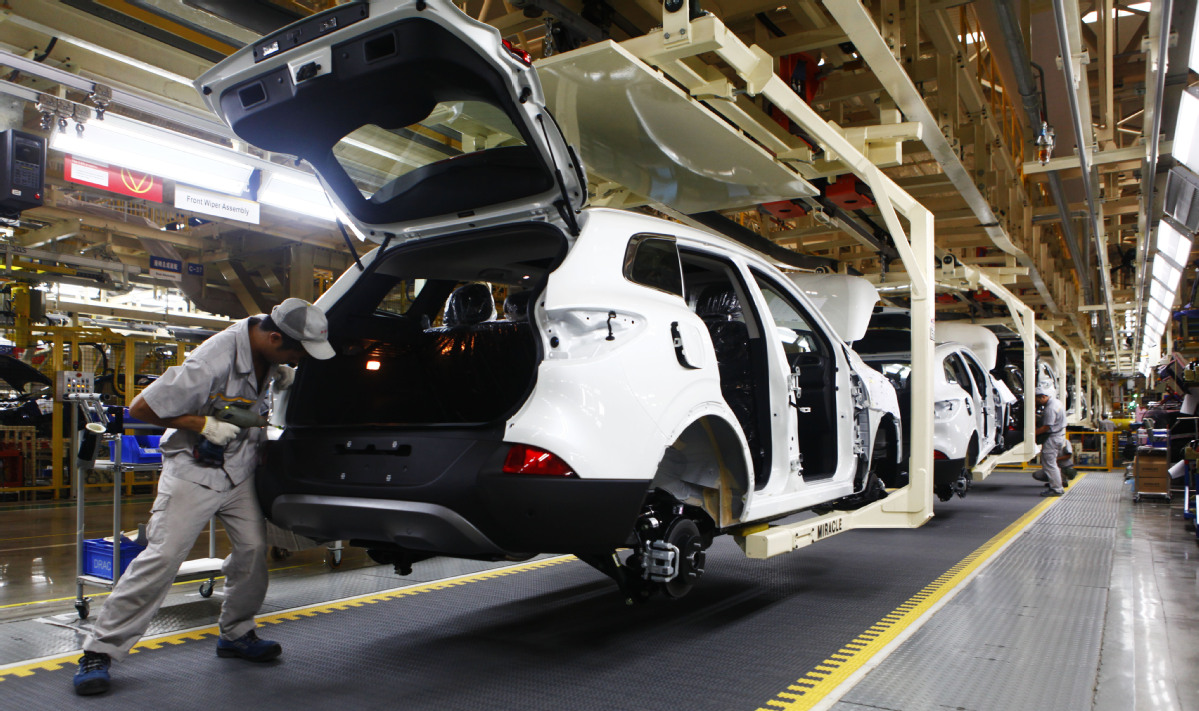 Employees assemble cars on a production line of Dongfeng Renault, a joint venture launched in 2013, in Wuhan, Hubei province. (Photo: China Daily)
The amount of inbound mergers and acquisitions hit a record high in 2018, with foreign investors encouraged by the positive outlook for Chinese companies and loosened foreign investment rules, according to the latest report from global financial market data provider Refinitiv.
The total amount of overseas companies' M&A activities in China came to $56.1 billion in 2018, up 23.3 percent from a year earlier, enough to take it past the previous record of $55.6 billion set in 2015.
The United States was the most active investor in the Asia-Pacific region last year, with US companies completing $19.2 billion worth of M&A deals in the region. Meanwhile, US companies were responsible for 34.3 percent of the inbound investment amount registered in China last year.
The majority, 38.3 percent of the total M&A trading amount, went into the financial sector. In all, overseas companies and organizations spent up to $21.5 billion investing in Chinese financial companies last year, up from just $3.5 billion in 2017.
The real estate industry attracted the second-largest amount of investment last year, accounting for 16.8 percent of the total M&A amount, closely followed by the industrial sector with 16.7 percent.
A consortium led by the Canada Pension Plan Investment Board acquired an undisclosed minority stake in e-commerce mammoth Alibaba's financial arm Ant Financial for $14 billion in June, which was the largest amount of inbound investment in a Chinese company yet recorded. Suyi Kim, senior managing director of CPPIB Asia-Pacific, explained that the opportunity presented by China's growing online financial market to Ant Financial is one of the major reasons for this investment.
Shi Miao, partner of the law firm Baker McKenzie FenXun said that large overseas companies chose to invest in Chinese companies last year partly as a way to tap growth in the Chinese market and partly to avoid risks in international trade.
Meanwhile, there was more cooperation between overseas companies and Chinese A-share listed enterprises in 2018 in the form of increasing registered capital, suggesting overseas investors' confidence in the Chinese market in the long term, she said.
He Chuan, head of mergers and acquisitions at UBS Securities, said that the regained momentum in the inbound investment sector can be largely attributed to the relaxed control on foreign capital announced last year, covering the financial, automotive and airplane manufacturing industries.
"These can be considered one of the most significant loosened controls on foreign capital over the past four decades of reform and opening-up. Foreign companies are allowed to hold a controlling stake in a joint venture. With this, China will promise more room for growth in the future and multinational companies will not let these opportunities go," he said.
Looking to 2019, He said overseas companies will look for a greater presence in the Chinese market or to increase their ownership in Chinese companies. The financial sector will be attractive this year, with life insurance companies gaining the most favor, he said. Asset management will also involve more overseas companies this year, he added.
While it is still unclear how policies will shape the airplane manufacturing sector, He said that there is a chance that international leaders, like Boeing or Airbus, will set up joint ventures in China. But all these will be largely dependent on further opening-up policies.