APEC achieves positive results, to continue promoting free trade
People's Daily app
1542702094000
The 26th Asia-Pacific Economic Cooperation (APEC) Economic Leaders' Meeting wrapped up Sunday in Papua New Guinea's capital Port Moresby.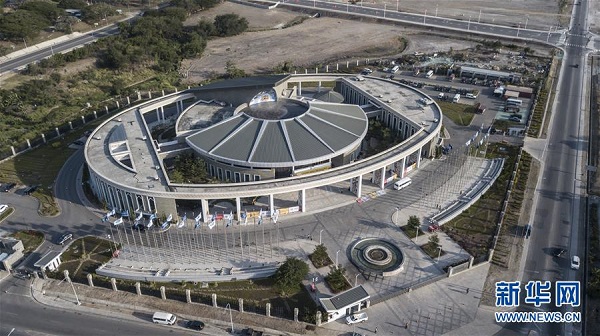 Aerial view of the International Convention Center in Port Moresby, Papua New Guinea. (Photo: Xinhua)
Chinese Foreign Ministry spokesperson Geng Shuang said at a press briefing that disagreements between China and the United States had led to the failure of issuing a Leaders' Declaration at the 26th APEC Leaders' Meeting.

"China has played a constructive role in promoting a successful APEC meeting, and showed its utmost sincerity," said Geng, adding that consultations on the basis of consensus are a fundamental principle for APEC members to cooperate, as well as a precondition that guarantees a healthy development of APEC.
Geng said leaders at the meeting exchanged views on trade, particularly the multilateral trading system, and a majority of APEC members voiced their support for multilateralism, a multilateral trading system, and the WTO to play its due role.
China believes that in the face of current emerging trend of anti-globalization and protectionism, the APEC meeting this year needs to send a clear and firm message to the international community, which is to jointly safeguard the global free trade framework and oppose any form of protectionism, said Foreign Minister Wang Yi.
While the organization, established in 1989, predominantly promotes growth and trade liberalization across the Asia-Pacific region, guests and delegates used the opportunity to discuss a wide-range of economic and security issues, including the future of globalization, free trade around the Asia-Pacific region, digital economy, regional economic integration, energy development, the sustainable management of natural resources, services, innovation, gender and food security.
"APEC economies have continued to make great efforts to make sure the Asia-Pacific region continues to achieve inclusive economic growth and integrate so that all citizens enjoy a better standard of living," said Papua New Guinea Prime Minister Peter O'Neill said at a press conference after the meeting.
He also noted that the APEC Economic Leaders' Meeting, as well as the APEC CEO Summit, was a success.
APEC leaders also said the work in APEC is very important, particularly in achieving the Bogor goals, which were set in Bogor, Indonesia in 1994, to achieve free and open trade and investment among developed economies by 2010 and developing economies by 2020. The 21 economies must aspire to achieving the Bogor goals by 2020, O'Neill added.
The APEC meeting achieved positive results with the joint efforts of all parties, said Wang Xiaolong, director-general of the Department of International Economic Affairs of China's Foreign Ministry. "The meeting, held at a time when the regional economy is facing both opportunities and challenges, has pushed forward the practical cooperation in various fields within the APEC framework," Wang told the press.
China attaches great importance to the meeting. Chinese President Xi Jinping attended the meeting and delivered a keynote speech. Charting a common future in "the age of disruption," Xi proposed focusing on openness, development, inclusiveness, innovation and a rules-based approach, strengthening international cooperation, improving global economic governance and handling common challenges, Wang said.
"Xi's remarks send a signal that connectivity and free trade should be further strengthened amid the challenges of trade protectionism," said Wang Yusheng, former senior APEC official. "The basic goal of APEC is to promote free trade and facilitate the world economic recovery," he noted.
"Xi's remarks demonstrated that China will continue to play an active role in promoting free trade in the Asia-Pacific region to a higher level and commit to jointly building an open world economy," Wang said.
Zhang Shaogang, director-general of the Department of International Trade and Economic Affairs of China's Ministry of Commerce, said that members made new policy proposals on areas such as tariff and non-tariff measures, services and investment which have facilitated agreements within the bloc toward finalizing the Free Trade Area of the Asia-Pacific (FTAAP).
The APEC Business Advisory Council (ABAC) also recommended that APEC leaders continue to support the integrity and purpose of the international trading system to counter the trend towards protectionism.
"We have given a strong message to APEC economic leaders in our annual report about our support for the global rules-based trading system and the value we place on pressing ahead towards a Free Trade Area of the Asia-Pacific (FTAAP). These are fundamental to ensuring that our region will be seamless, dynamic, resilient and sustainable, and a place where everyone can equally enjoy the opportunities and benefits of regional economic integration," said ABAC chair David Toua.
(With inputs from Xinhua)