Chinese cultural relics returned from Italy displayed in National Museum of China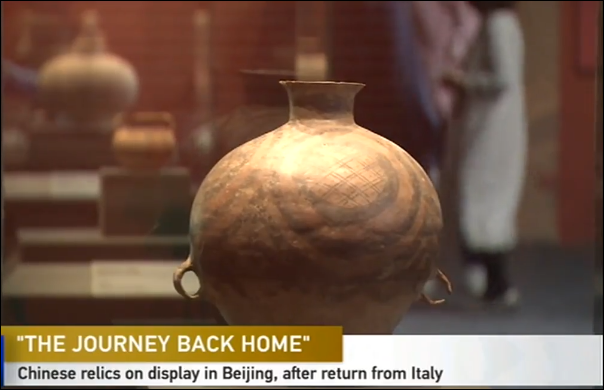 (Photo: CGTN)
Chinese cultural relics returned from Italy are on display at the National Museum of China in Beijing starting Wednesday.
The exhibition, titled "The Journey Back Home," showcases more than 700 pieces of repatriated Chinese artifacts, including a painted pottery pot from the Western Han Dynasty (202 B.C. - 8 A.D.), a colored camel pottery figurine from the Tang Dynasty (618-907) and a white-glazed bowl from the Song Dynasty (960-1279).
Those cultural relics were returned to China about a month ago when Chinese President Xi Jinping and Italian Prime Minister Giuseppe Conte witnessed the exchange of certificates on the return of the cultural relics and artworks on Saturday in Rome.
The returning of those cultural relics marks a new milestone in China-Italy cultural heritage cooperation and sets a new example for international cooperation in recovering lost cultural relics.
In 2007, Italian gendarmerie seized a batch of Chinese cultural relics and artworks which are suspected of being illegally lost in the national cultural relics market, and immediately started the domestic judicial procedures. The State Administration of Cultural Heritage of China then contacted the Italian authorities to carry out the recovery and return of lost cultural relics.
Director of the Social Heritage Department of the Museum Department of the State Administration of Cultural Relics Wu Min said that the Chinese side would work with the Italian military police on the repatriation of cultural relics.
The period of these 796 sets of cultural relics was about 5,000 years long, ranging from the Neolithic age (10,000 B.C.) to Qing Dynasty (1636-1912), Wu explained, adding that these wide varieties of artifacts were well-preserved and had great value. "They are the physical witnesses of the production and living scenes, and the development of civilization in various periods of Chinese history," Wu said.
The exhibition will be open until June 30.