Chinese ambassador: Countermeasures prepared for further US tariffs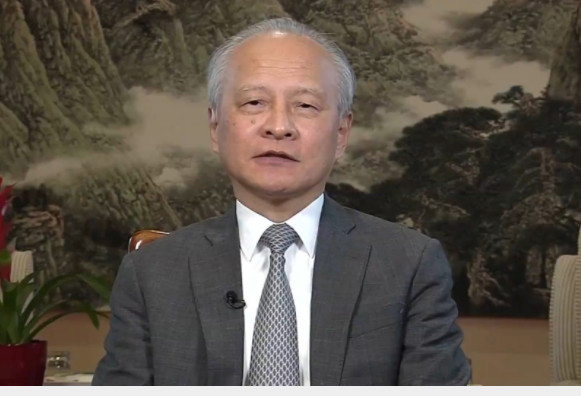 (Photo: CGTN)
China will take "countermeasures of the same proportion and same scale" if the US imposes further tariffs on Chinese products, Cui Tiankai, China's ambassador to the US, told CGTN on Tuesday.
China on Sunday slapped extra tariffs of up to 25 percent on 128 US products in response to the Trump administration's duties on Chinese steel and aluminum.
"What was announced by our spokesperson of the Ministry of Commerce was a response to the US 232 investigation, not the 301 which is not announced yet. But if they do, we will certainly take countermeasures of the same proportion and the same scale, same intensity," Cui said.
The US is expected to announce tariffs on 50 billion to 60 billion US dollars worth of Chinese goods this week, mainly high-tech products, as a result of an investigation under Section 301 of the 1974 US Trade Act.
The tariff list announced by China on Sunday is quite calm and restrained, Hong Lin, a current affairs commentator for China Central Television said on Tuesday. He noted the retaliation is meant to show China's stand and send the US a warning.
The US is set to unveil a new list of Chinese goods that could be subjected to US tariffs including "largely high technology" products from China, said Reuters quoting US officials.
Most of these targeted products benefit from China's "Made in China 2025," which is a program that aims to upgrade the country's manufacturing industry with high-tech products.
The world has witnessed rapid technological development and all governments have the responsibility to ensure all economies benefit from the technological progress and to deal with the downside of the changes together, Cui said.
The US wants to maintain the current industry landscape in which China is the factory for low and middle-end products and the US grips the high-end goods, said Hong.
But the world will not be unchanged forever, "China is catching all opportunities to be a strong manufacturing powerhouse," Hong said.