COVID-19 cases in multiple Chinese cities traced to overseas sources
Global Times
1610373038000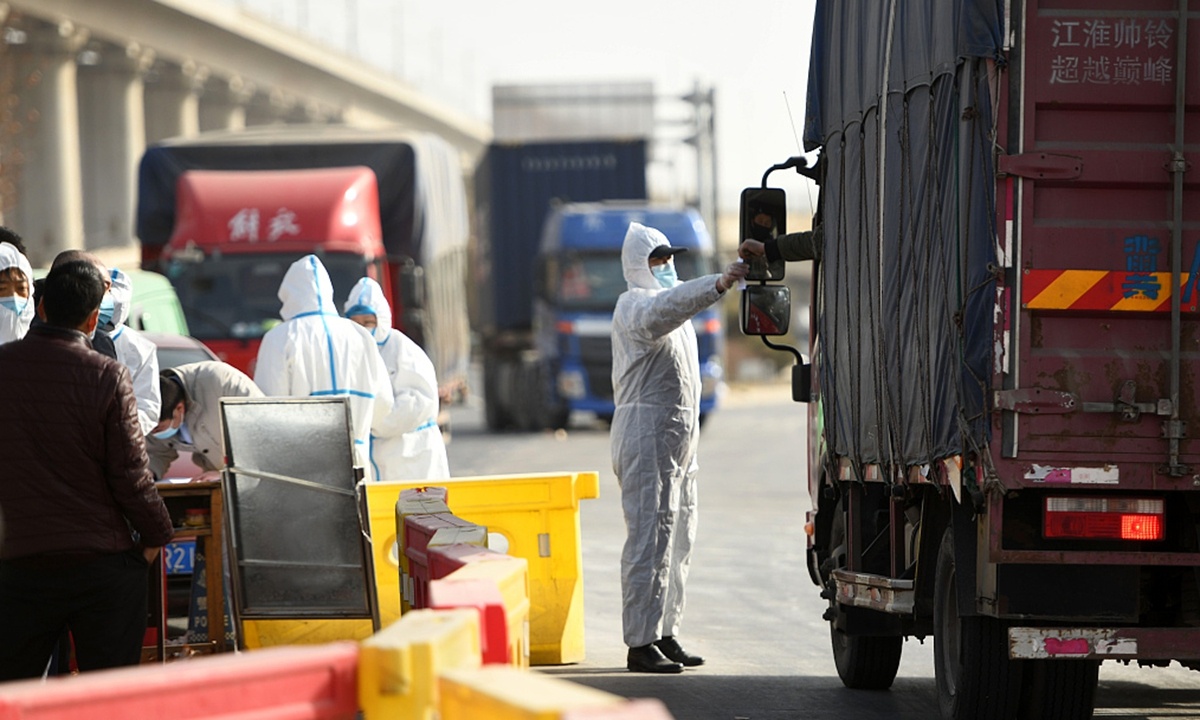 Sporadic COVID-19 cases that recently erupted in Chinese cities were traced to imported sources and showed a longer incubation period, faster transmission and more complex pattern, epidemiological investigations and virus gene sequencing analyses show.
At Monday's press conference, local authorities in Shenyang, Northeast China's Liaoning Province, announced that the source of the recent outbreak in the city was a patient who entered China on November 29 from South Korea. The patient showed symptoms after being released from quarantine, and then spread the virus through hospital visits and family gatherings.
Authorities in Dalian, a coastal city in Liaoning, also announced that its recent wave of COVID-19 cases starting December 15 was triggered by imported sources. It was likely caused by coronavirus contaminated imported frozen products as most of those infected are workers at the Dalian port, who became infected after carrying items from a Russian cargo ship that were later confirmed to be contaminated with the virus.
The coronavirus found in Shijiazhuang and Xingtai of North China's Hebei Province is similar to the strain from Russia, gene sequencing results show, the China Center for Disease Control (CDC) said on Wednesday.
The latest resurgence of COVID-19 cases in Beijing's Shunyi district was found to be originated from an imported asymptomatic case from Indonesia, Beijing health authorities said on December 30. By analyzing the genetic sequence of the virus, researchers found that it belongs to the L-genotype of the European branch, which shares high similarity with the virus strains found in Southeast Asia in November.
The patient went to Beijing on December 10 after completing his 14-day quarantine in East China's Fujian Province and having tested negative after a nucleic acid test. He later tested positive in a serum antibody test and negative in another nucleic acid test on December 26.
Health authorities in Chengdu, capital of Southwest China's Sichuan Province, said on December 31 that the latest outbreak can be traced to imported sources and the virus genotype of the local cases was from a branch of the European family, which was similar to the imported cases from Nepal in November.
Experts called for stricter epidemic control measures on overseas travelers, the environment and objects they touched, as well as cold-chain products.
In most cases, the incubation of the virus in the human body is within two weeks, but some will be longer. The cold weather has also contributed to such a situation as the virus can survive longer and become more infectious in low temperatures, a Beijing-based immunological expert told the Global Times on condition of anonymity.
The expert suggested that the safest way is to extend the quarantine period on overseas arrivals from the current "14+7" policy to "21+7."
Shenyang and Dalian now require that all travelers from overseas follow a 14-day quarantine plus 7-day medical observation period. Beijing has the same requirement for travelers entering the city from other ports in China.
The expert said that the resurgence of COVID-19 in China, mostly caused by overseas cases, shows that the epidemic abroad is still serious, and China is faced with huge pressure to prevent imported infections. "China should step up research of antiviral drugs, such as safe traditional Chinese medicine or vitamin preparations, which can be used by people in quarantine to improve their antiviral ability," he said.
The latest spike, together with the earlier waves across the nation which were found to be related to imported cold-chain products, raised concerns among Chinese netizens. An increasing number of people began to question whether the early outbreak in Wuhan originated from an imported source.
More evidence is needed. Scientists worldwide are urged to join hands to further research this hypothesis and pinpoint the origin of the virus.