Increasing numbers of Chinese students in US see brighter future at home
Global Times
1555959802000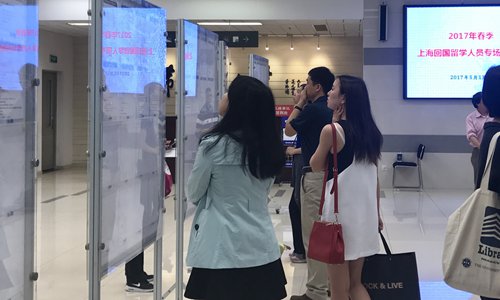 Overseas Chinese students attend the 2017 Spring job fair for returned students in Shanghai. (Photo: IC)
Despite having already landed an offer in the United States, He Jielin showed up at the job fair organized by Chinese companies on Saturday just outside of Washington DC.
"I do have an offer here, but I don't rule out going back to China," He told Xinhua News Agency when making his way through crowds gathering around the dozens of booths set up by Chinese companies.
A graduate this year of Information System Technology at The George Washington University (GW), He is among about 1,000 Chinese students coming here mostly to seek opportunities to put what they have learned abroad into use back home.
Qi Hao, a GW undergraduate who helped organize the event, said the job fair is held because many Chinese students have shown a keen interest in pursuing a career back in China.
"I am definitely going to return to China after I complete my studies here," a University of Maryland student who gave her name as Jiang said, "I feel more at ease working and living in a familiar environment."
This sentiment is shared by many. When submitting CVs, some cite private reasons, including reuniting with family, but more are drawn to the great potential that they believe China has in further development.
"The market in China is much bigger, and with the same language and culture, I may reach a higher position. I might bump against a glass ceiling if I stayed here," a GW junior student who gave his name as Li said.
Data shows there is an increasing number of overseas Chinese students coming back to China to work. Li Haozhuan, CEO of the recruiting firm Liepin North America, said that there were about 480,000 students returning to China in 2017, 520,000 in 2018, and this year's number is forecast to top 600,000.
"A lot of students see China as a fertile ground of artificial intelligence and 5G technologies, which are expected to spur future developments," he said.
"A trend we have observed is that more students are searching for summer internship opportunities in China during their sophomore or junior years, we see that as a strong intention of returning to China for a full-time job after they graduate," Li said.
The Chinese companies are equally eager to find the right people.
Tracy Ma, a human resource officer at the medical equipment company MicroPort, said her company has a thirst for foreign-educated students as it is poised to expand into foreign markets.
"We plan to nearly double our employee headcount to 10,000 by 2025," Ma said, adding that recruiting students from top-tier foreign universities is crucial.
According to Ma, her company needs students who excel in foreign languages and at the same time understand foreign culture and markets. "If we see someone whom we really like, we'll set up a position to suit that person," she said.
"There is really a push and pull that the students are feeling," Li, the recruiting expert, said. Chinese companies, especially those better integrated into the global economy, are courting overseas students while immigration policies and political environment in some Western countries are becoming less appealing to them.
Despite promising prospects, some warn that the path back to China can also have pitfalls for young professionals who missed the drastic changes at home over the years.
Zhang Li, vice president of International Data Group China, said that some of the overseas students are somewhat out of line with the demand of Chinese companies and the Chinese market.
"In the previous interviews, some asked for exorbitant salaries that are unrealistic in the Chinese job market, and some were ready to take any pay package, indicating a lack of understanding of their self-worth," she said.
The fact that the overseas Chinese students have become increasingly younger over the years also contributes to the situation, according to Zhang, who noted that those who spend college life or even high school years abroad are surely to face a cultural shock when they are back in China.
"The advice is to base expectations on up-to-date information about industry trends in China, and keep a close watch on the latest news of the target company," the recruiting expert Li said.