Beijing's Xinfadi market reopens
chinadaily.com.cn
1599397402000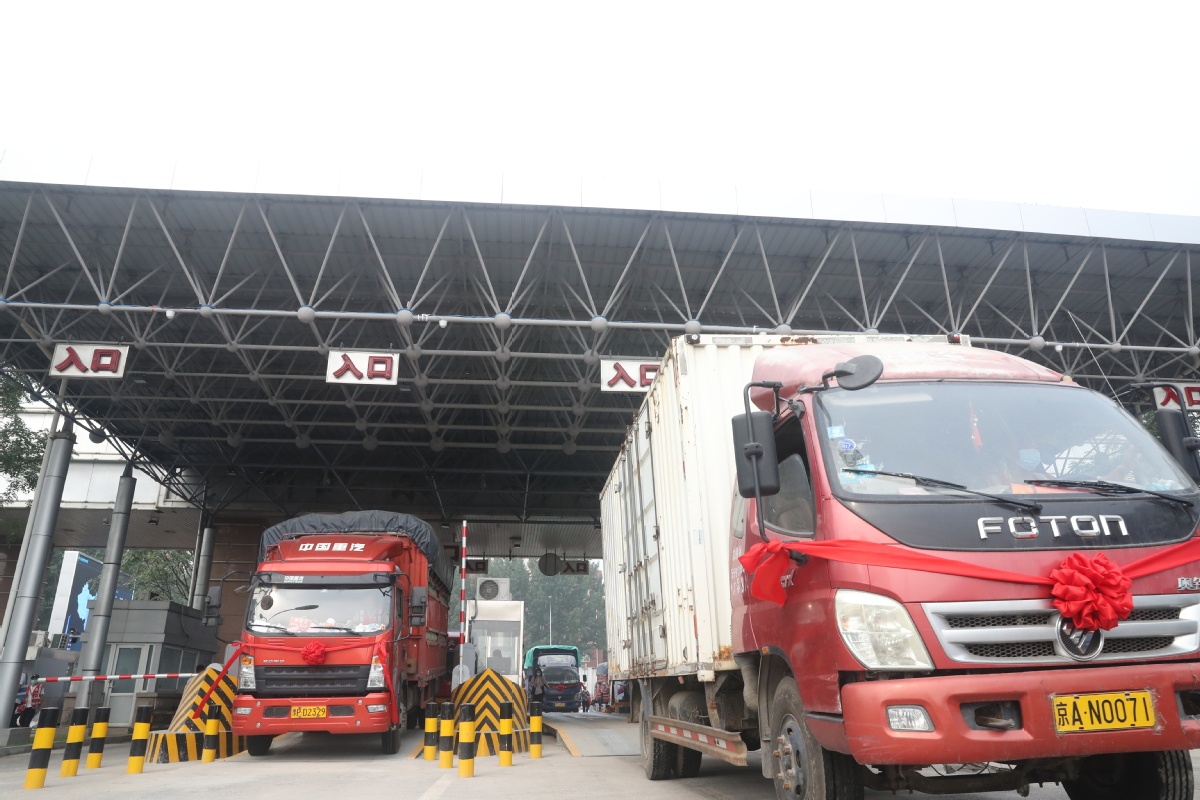 Trucks loaded with vegetables and fruits enter the Xinfadi market on Sunday morning with the reopening of the north area. (Photo: chinadaily.com.cn)
Beijing's Xinfadi wholesale market reopened its north section on Sunday after the south area reopened to vendors last month, marking the full reopening of the market.
After the market suspended operations on June 13 due to the COVID-19 epidemic, Fengtai district government examined all potential risks there to ensure it could reopen safely, officials said.
The north section is the trading area for about 40 types of vegetables with an area of 640 mu (42.6 hectares).
After the reopening, the market will mainly sell fruits and vegetables along with other agricultural produce.
According to the market authority, 1,000 trucks with a total load of 13,000 tons of fruits and vegetables entered the market on Aug 15 when the south area reopened after the epidemic. Afterwards, the types of fruits and vegetables and the number of trucks have increased.
On Saturday, more than 1,600 trucks entered the market and the trading volume reached 23,000 metric tons.
After the reopening, only the vehicles of vendors and buyers will be allowed to enter the market. Anyone coming into the market must first pass a facial recognition system, as well as temperature checks, said the deputy general manager Gu Zhaoxue.
Private cars, tricycles and bikes will not be allowed to enter the market.
New standards were put in place on disinfection, health monitoring and epidemic prevention in public bathrooms under the guidance of the district administration.
The authority has improved the environment in nearby areas by removing buildings considered to be safety risks and optimizing traffic routes.
The market, founded in 1988, has expanded rapidly with the country's economic growth. It covers an area the size of 170 soccer fields, and for years has supplied more than 80 percent of the capital's agricultural produce.
It became known affectionately as the capital's "giant veggie basket" and "fruit platter".
The nicknames are accurate, because last year, more than 17 million metric tons of produce were traded at the market, which had a turnover of 132 billion yuan ($19 billion).
Out of more than 4,600 domestic agricultural wholesale markets, Xinfadi ranked first for 17 consecutive years in trading volume and turnover, according to earlier data.