Freight train carries China-made engines to France
Global Times
1509628127000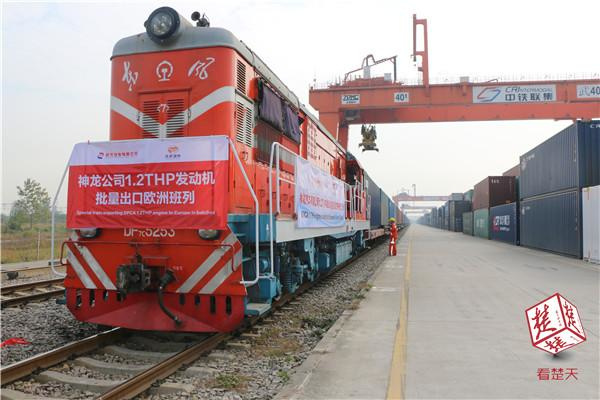 The new direct China-Euraope freight train loaded with domestically produced automobile engines gets ready for its departure for France in central China's Hubei on November 2, 2017. (Photo: Chutian Metropolis Daily)

A freight train loaded with car engines produced in China left Wuhan, capital of central China's Hubei Province, bound for Dourges in France on November 2, 2017.
The 3,432 engines made by China's Dongfeng Peugeot Citroen Automobile Company were ordered by French car manufacturer, Groupe PSA.
The engines were transported via the new direct China-Europe freight train route opened on Oct. 28.
The train will pass through Kazakhstan, Russia, Belarus, Poland and Germany, reducing the transport time to France by nearly 20 days compared with ocean shipping. The journey will take about 18 days.
The freight train is scheduled to send the engines to France every week until March 2018.
About 16 Wuhan-Europe freight routes have been launched since 2012, linking Wuhan with more than 60 cities in Europe, Central Asia and West Asia.
As of Oct. 20, 277 trains carrying a total of 25,000 containers had travelled the route this year.