English-speaking countries look to China for high-quality students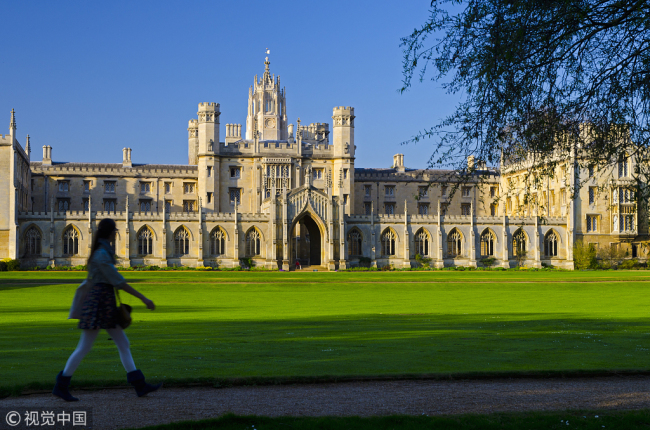 (Photo: from VCG)
Figures released by the Ministry of Education in China shows that the population of overseas Chinese students has increased 36% from 2012 to 2016, up to 546,000. According to a global research initiative ProjectAtlas, the US, Britain and China ranked the top three preferred studying destinations in 2016, following by France, Australia, Russia, Canada and Germany. It also finds that China is the largest source of international students in the US, Britain, Australia, Canada, New Zealand, Germany, Japan and South Korea.
Many countries perceive China as a valuable market for the high quality of students, large market demand and the cultural background of these students. Cindy Temorshuizen is the Chargé d'affaires at the Embassy of Canada in Beijing, and she says the country welcomes Chinese students.
"The Chinese market is important to us, because we know there is a huge amount of interests here in international education," Cindy Temorshuizen says, "China also produces a lot of high quality of graduates, and Canada is looking for students that are high quality. Currently, we have about 140,000 Chinese students studying in Canada."
Chinese students are also considered cultural ambassadors. Adele Bryant is the Education Counselor from the New Zealand Embassy in Beijing. She says overseas students play an important role in promoting bilateral business and trade of the two countries.
"We really value Chinese students in New Zealand. We appreciate the culture they bring to our own students and our business communities. China is such an important trading partner of New Zealand that the Chinese students spend time in New Zealand, we want them to become advocates for New Zealand, perhaps to become business partners or come to visit us for tourists. So I think students play a really important role in bridging the two counties. This year, we have about 40,000 Chinese students studying in all around New Zealand, with estimated 5 percent of growth rate," Adele Bryant says.
Chinese students usually take several factors into account before studying abroad, including the quality of education, tuition fees and employment opportunities. Cindy Temorshuizen adds that Canada as a bilingual country, is ideal for students who want to improve their English proficiency, and the country emphasizes on the development of a high quality of education.
"Language education is a real strength of Canada, because Canada is a bilingual country. We speak English and French. Our French population needs to learn English, so we have a very strong English training culture. For Chinese students who want to learn English or want to improve their English, Canada is a fantastic destination," Cindy Temorshuizen says, "We take high quality of education very seriously. In 2015, the OECD (Organization for Economic Co-operation and Development) did an education study, and Canada was the country that invested the most in terms of the percentage of the GDP in higher education."
Studying overseas is considered a memorable and exciting experience, but before international students get used to the local life and study, they often need some transitional period to deal with academic pressure and get familiar with their surroundings.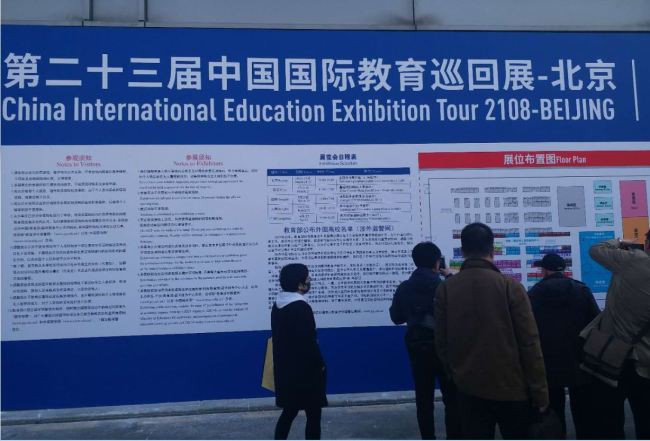 (Photo: from China Plus)
Jack Lu is the Education Marketing Manager from the British Council. He says the collegiate house system in the British education system assists students get through this period of time quickly.
"Oxford, Cambridge, Durham University and the red brick universities still offer a collegiate house system to students. The house system gives students more attention and care. Students and teachers in each house are like family members. It is also beneficial to build close networks with alumni."
After completing their overseas studies, nearly 80% of Chinese students, including 81% postgraduate, came back to China to seek employment opportunities in 2016, that's according to the latest data by China's Ministry of Education. New Zealand Education Counselor Adele Bryant says New Zealand's education equips students with practical skills that help them become competitive in the job market.
"New Zealand was rated No.1 in the world for basic educational system overall for preparing students for the future of work in 2017. We are not certain about what jobs will be available, but New Zealand educational system develop graduates who are flexible and adaptable and who have the knowledge in the soft skills which they can translate into new jobs," Adele Bryant says, "We have Visa policies-postgraduate visa, which enable international students to look for relative work to their degree in New Zealand. Most of Chinese students want to come back to China, but they also want to get some work experience before they do."
Cindy Temorshuizen from the Embassy of Canada in Beijing says many educational institutions in Canada help students get work experience, and it is part of their curriculum.
"A lot of Canadian institutions are very helpful to their students in finding jobs. In Canada, many of our schools have what is called cooperative education, so you do a semester of study, and then you do a semester getting work experience. So there are many programs primarily organized by the institution to help their students finding work experience. We have a system that allows people to stay after graduation to work and get work experience in Canada."
Chen Yupeng is an undergraduate student majoring economics in the US. He says many Chinese students choose to work in China upon graduation from abroad.
"I know many students who studied high-end technology in the US, like physics, mathematics and quantum science. Now they are working in the national laboratory or high-tech companies, like Tencent and the Alibaba Group. They are making contributions to enhance business cooperation and systematic development," Chen Yupeng says.
To help students access educational institutions from other countries, China International Educational Exhibition Tour has been held annually in Beijing, Xi'an, Chengdu, Shanghai and Guangzhou for 18 years.
During the tour in Beijing this year, some parents and students explained why studying abroad is an option for them.
In recent years, the Chinese government has been cooperating with many other countries in terms of education through exchange programs. Cindy Temorshuizen says promoting cooperation in the education sector is beneficial for both countries.
"In September 2016, China and Canada signed our first ever memorandum of understanding on education cooperation, and this was between our Prime Minster and Premier Li Keqiang, so this is a terrific way to have a government basis for education cooperation. We also have programs in place to encourage more Canadian students to come to China. China and Canada relationships are really a strong one, and we really see education as a fantastic way to deepen the relationship between our two countries."
According to the Ministry of Education of China, the country has been actively promoting international cooperation in the field of education through exchange programs with 188 countries and regions, establishing relations with 46 international organizations by the end of 2016. For the foreseeable future, China will continue making contributions in international education as part of its long-term goals.