Over 100 flights canceled in Heilongjiang due to typhoon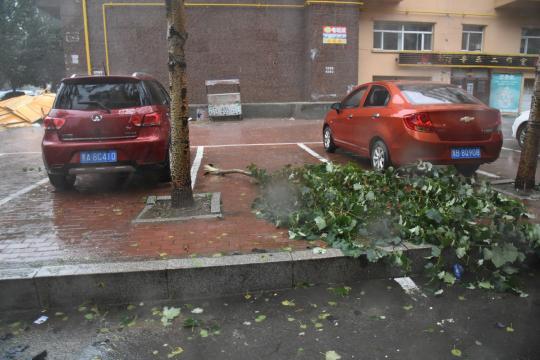 A tree is uprooted in Harbin, Northeast China's Heilongjiang province, after Typhoon Maysak hit the province, on Sept 3, 2020. (Photo: Xinhua)
A total of 103 flights had been canceled and four others delayed as of 2:30 pm on Thursday at the Harbin Taiping International Airport in Northeast China's Heilongjiang province, due to Typhoon Maysak.
The periphery of the typhoon has brought strong winds and heavy rainfalls in Heilongjiang, and local meteorological authorities predict that Maysak will hit the province on Thursday night.
Heilongjiang activated the Level-IV response, the lowest in China's four-tier emergency response system, for flood control at 2 pm on Wednesday, according to the provincial flood control and drought relief headquarters.
The provincial weather bureau initiated a Level-III emergency response for meteorological disasters at 2:30 pm on Wednesday, warning of the possibility of inundation of farmlands and flooding of some rivers across the province.
In the provincial capital Harbin, schools and kindergartens are required to suspend outdoor activities on Thursday and Friday.
Compared with other provinces in eastern China, a typhoon is less common in Heilongjiang, as the border province is far from an open sea.