Ant Forest now home to 100 million trees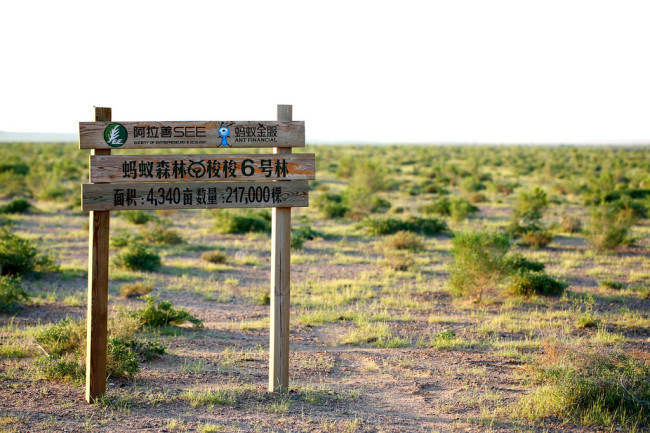 Saxaul trees planted to stop the wind by Ant Forest, with Ant Financial of the Alibaba Group, in Alxa League, North China's Inner Mongolia Autonomous Region. (Photo: IC)
Alibaba's Alipay, the leading online payment platform in China, announced on Monday that 100 million trees have been planted in the country's deserts as the number of its Ant Forest users reaches 500 million.
The nearly 1.4 million mu (about 93,300 hectares) of forests have been planted as part of a nonprofit project to combat desertification and promote a low-carbon lifestyle started by Ant Financial, See Foundation and China Green Foundation in August 2016.
Alipay users who engage in low-carbon acts like renting a bike, taking the bus, or simply walking are rewarded with "green energy" that is used to "water" virtual trees in their mobile phones. And when a virtual tree grows up, a real tree will be planted by "Ant Forest," a function embedded in the Alipay app.
This way of planting trees was recognized on October 23, 2018 by the National Afforestation Committee as a means for citizens to fulfill their obligations of planting trees.
In February 2019, Hema Fresh, Alibaba's new retail-based supermarket chain, also joined in the Ant Forest scheme, allowing its customers to gain "green energy" if they choose not to use plastic bags while shopping.
The Chinese government attaches great importance to the protection and restoration of ecosystems and afforestation projects have been implemented for decades. China aims to increase the forest cover to 23 percent by 2020, and to 26 percent by 2035.
A new study using data from NASA satellites shows that the earth becomes greener as a result of ambitious tree-planting programs in China and India.