CIIE boosts China-Germany economic ties: official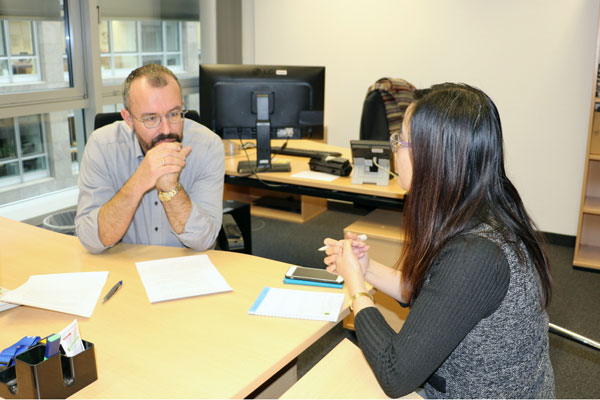 Andreas Bilfinger, the spokesperson with Germany Trade & Invest, Germany's economic development agency, speaks during an interview with China Radio International. (Photo: China Plus)
A spokesperson with Germany's economic development agency has called the upcoming China International Import Expo (CIIE) an important platform for boosting exchanges between firms in China and Germany.
Andreas Bilfinger, the spokesperson with Germany Trade & Invest, said the CIIE will give a boost to economic and trade ties between China and Germany.
"The CIIE provides great opportunities for the two sides to exchange ideas concerning specific projects, as well as to discuss the broad prospects for cooperation in the future, laying a solid foundation for mutually beneficial and win-win cooperation. There are close bilateral economic and trade ties between China and Germany, and I firmly believe that the import expo will take these relationships to a new level," said Bilfinger.
China is Germany's most important trading partner, and Germany is China's largest trading partner in Europe.
In 2017, the volume of bilateral trade between the two countries was 186.6 billion Euros, or some 210 billion U.S. dollars.
Germany is one of the 12 countries taking part in the import expo in Shanghai that has been granted the status of a "Guest of Honor."
Nearly 200 German enterprises have registered to attend the event, from sectors that include artificial intelligence, automotive manufacturing, engineering, medicine, and chemicals.
One of the highlights of the event will be a 200-ton milling machine made by German manufacturer Waldrich Coburg. It will be the largest single item on display.
Andreas Bilfinger said that innovation plays a significant role in Germany's manufacturing sector.
"I believe that the highlight for the German companies taking part will be the focus on innovation, rather than the specific products that are on display. On the one hand, innovation consolidates our advantages in global competition; on the other hand, it helps a company to better cope with the competition it faces in its domestic market," said Bilfinger.
Andreas Bilfinger expected that Germany Trade & Invest will build links with some of China's domestic enterprises at the expo. This will provide them with the opportunity to access support that will help them to enter Germany's market.
"Our Chinese partners and us, as well as all of the German and Chinese companies participating in the China International Import Expo, will grasp the opportunities brought about by the expo to engage in dialogue on the basis of equality and mutual benefit, enhance mutual trust, and boost cooperation. Both sides share the same goal of promoting a steady, healthy development of economic relations between China and Germany," said Bilfinger.
Nearly 3000 companies from more than 130 countries and regions have registered to take part in the expo in Shanghai next week.