China to improve welfare for veterans to enhance troop morale amid India and S.China Sea tensions
Global Times
1521032995000
Soldiers should feel esteemed so as to protect country with more loyalty: expert

China's latest move to establish a ministry for veteran affairs will not only boost welfare for veterans but also increase in-service soldier motivation.
Pension problems for veterans have led to social instability in recent years.
The social status and image of the Chinese army has grown in recent years as China boosts its national defense.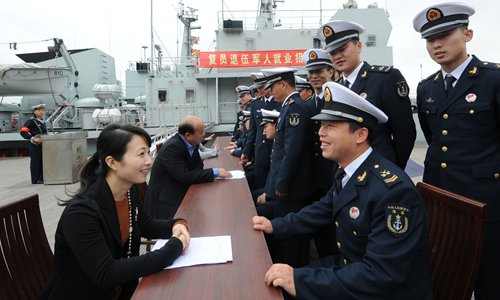 Soldiers who are to be demobilized consult at a job fair held in Shanghai in 2012. Photo: VCG
China's plan to establish a ministry of veteran affairs as part of its institutional restructuring, announced on Tuesday at the first session of the 13th National People's Congress (NPC), will help boost the overall motivation and loyalty of the Chinese army as external military friction increases, experts say.
The new department, if passed, will mainly be responsible for the management and resettlement of retired and demobilized soldiers and officers, honoring the dedication and spirit of veterans, and guide work on the support of military personnel and their relatives, NPC secretary-general Wang Chen said at the session.
There are over 57 million veterans in China, and the number has been growing by several hundred thousand each year, according to authorities.
"If veterans aren't respected or properly resettled, how do we talk about the dignity of our military? The establishment of a new ministry will tackle this issue and make it easier to manage veterans," Song Zhongping, a military expert and TV commentator, told the Global Times.
The news will also boost the confidence of in-service Chinese troops as military tensions in the South China Sea, Taiwan Straits and India continue to rise. China is facing an increasingly complicated geopolitical environment. The South China Sea, for example, is still one of the most complicated conflict zones in the world, requiring the Chinese navy to be prepared for all possibilities.
India's recent plans to strengthen its military also means China should remain alert. Calls for the Chinese mainland to unify Taiwan by force have also increased domestically.
"Without having to worry about their life after retirement, soldiers will put all of their efforts into training and thus enhance the military's overall combat capability. Those who are stationed in rough or difficult areas, or at the country's border, will protect their country with more loyalty," Wei Dongxu, a Beijing-based military analyst, told the Global Times.
Song echoed this statement. "Growing military tensions mean that soldiers have to be respected. Only thus can they better protect our country," he said.
The move is the latest step China has taken in recent years to boost the welfare and sense of honor among its troops. The report to the 19th National Congress of the Communist Party of China (CPC), for example, highlighted protection of the legitimate rights and interests of military personnel and their families and vowed to "make military service an occupation that enjoys public respect."
Chinese Premier Li Keqiang, in his report on the work of the government this month, also mentioned taking substantive steps to see demobilized military personnel resettled into new jobs. Experts believe the new ministry will further enhance the social and political status of Chinese military.
"The status of Chinese soldiers isn't just reflected in their pay, but also pride and social recognition. The establishment of the new ministry will solve this key issue," Song said.
Overlapping responsibility
Currently, welfare for demobilized soldiers and officers is managed collectively by the Ministry of Civil Affairs, Ministry of Human Resources and Social Security and the Political Work Department of the Central Military Commission.
"The overlapping responsibility of these departments has resulted in ineffective management of the veterans' welfare," Song said.
Apart from a new ministry, some NPC deputies are suggesting a new legal system to be established to provide legal basis for the veterans' welfare. So far, the veterans' resettlement is regulated by several administrative regulations, with less enforcement potency.
China's changing economic landscape over the past few decades also made it more difficult to provide stable jobs for demobilized soldiers. Assigning soldiers with jobs at State-owned enterprises or public institutions after they are discharged used to be a major method for China to settle its veterans.
"However, due to reforms within State-owned enterprises after the reform and opening up, the number of city-level State-owned enterprises declined, as did their ability to absorb ex-servicemen," Gao Xiaobing, vice minister of the Ministry of Civil Affairs, said in a press conference this February.
Discontent veterans
Indeed, petitions and even protests made by demobilized soldiers unsatisfied with their retirement benefits have not been rare in the past few years, posing threats to social stability.
In 2016, thousands of ex-servicemen, most in their 40s or 50s, gathered in front of the headquarters of the Central Military Commission (CMC) on Chang'an Avenue, six kilometers west of Tiananmen Square in Beijing, demanding better pensions.
Most of these veterans served in the People's Liberation Army (PLA) for over 10 years, were demobilized between 1993 and 2001, and were assigned jobs in enterprises that ended up bankrupt or being merged, demonstrators told the Global Times at that time.
In 2014, hundreds of veterans who served in wars or conflicts after the Korean War (1950-53) or in China's nuclear experiments demonstrated outside the office of letters and calls of the CMC and PLA General Political Department in Beijing, asking for better retirement benefits.
China's recent reforms to downsize the PLA Army have also put pressure on the resettlement of discharged soldiers.
In order to pacify its army, China has been gradually enhancing welfare for ex-servicemen in recent years. In 2017, a new regulation stipulated that over 80 percent of demobilized soldiers should be assigned jobs in administrative organs, public institutions or State-owned enterprises.
In 2015, China asked its State-owned enterprises to reserve at least 5 percent of their vacancies for demobilized soldiers. The government also provides tax exemption for soldiers who start their own businesses.
As for older veterans, the government launched a project called "Action Zero Clearing" this February, promising to examine the situation of all soldiers who were demobilized after 1978 and who met the criteria to be handed jobs. Those who did not get the jobs were promised that they will be resettled.
Growing pride
Since the establishment of the People's Republic of China, Chinese soldiers have enjoyed a relatively high social status due to their contributions to the liberation of China and efforts in maintaining peace in the country.
But as China entered a period of rapid economic growth following the reform and opening up, the influence and importance of the army gradually dwindled. This was aggravated by corruption charges against top military officials.
"Having enjoyed peace for a long time, the public lowered their awareness of the importance of national defense. As a result, the attractiveness of military professions diminished and soldiers are less proud of their jobs," a 2015 article on PLA Daily said.
In recent years, however, as military tensions in the South China Sea, Taiwan Straits and India reignited people's attention to national defense and patriotic passions, the social status and image of Chinese army soldiers grew.
A series of patriotic films depicting heroic feats of Chinese troops abroad, such as Operation Red Sea and Wolf Warrior, also boosted the image and reputation of Chinese troops, especially among youth.
This February, a video showing a woman scolding a man who asked a soldier to give up a seat to him on a bus went viral on Sina Weibo, receiving over 60,000 likes.
In the video, after a man asked a soldier to give up a seat, the woman pushed the soldier back down on his seat, saying, "Don't you see he's wearing a military uniform? When there's a war, won't you depend on them to save you? When there are disasters, aren't they the first to go for your rescue?"
In the comment section, most netizens praised the woman's courage and expressed their admiration for Chinese soldiers.