China to attract more foreign talent
China will further open up and strengthen international cooperation in technology to promote a favorable environment for global talent, Wang Zhigang, minister of science and technology, said on Sunday.

Talent is the starting point for technological innovation, Wang said. The Chinese government considers technology the key driver of economic and social development and attaches high importance to exchange and cooperation among international technological talent, he said.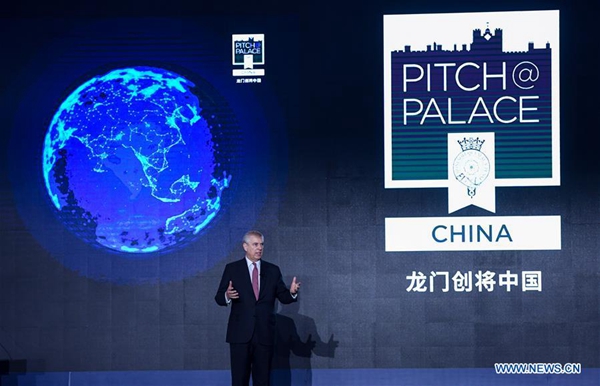 British Prince Andrew, the Duke of York, addresses the final of Pitch@Palace China in Shenzhen, south China's Guangdong province, April 14, 2019. (Photo: Xinhua)
"China is a participant in and a beneficiary of technological globalization. It is also a contributor and a leader in promoting broader innovation and cooperation," Wang said at the opening ceremony of the two-day 17th Conference on International Exchange of Professionals in Shenzhen on Sunday.
"We will move faster to build a group of international cooperative platforms for technological innovation, create more favorable conditions to facilitate project cooperation and personnel and academic exchange, and we will safeguard the legitimate rights and interests of foreign talent working and living in China according to the law."
China has been making great efforts to strengthen international exchanges on technology over the past years. So far, it has established relations with 160 countries on technological cooperation and has signed 114 intergovernmental cooperative agreements and 346 talent exchange agreements.
As part of this year's conference, the global entrepreneurial event Pitch@Palace held its China region final competition in Shenzhen on Sunday.
Forty-one teams presented to the audience their entrepreneurial projects, in fields including artificial intelligence, robotics and virtual reality.
Incus Co, set up by a group of Hong Kong university graduates, won the top prize. The company in Shenzhen specializes in audio processing technology that can be used in hearing-aids, telecommunication devices, voice recognition and a number of other areas.
Pitch@Palace, founded in 2014 by Prince Andrew, Duke of York, serves as a platform for global entrepreneurs to build connectivity around the world by gaining access to potential investors, mentors and business partners. So far, it has provided support for nearly 2,000 startups worldwide.
Pitch@Palace not only fits in with Britain's vision of building a "global Britain" and its industrial strategy, but is also in line with China's Belt and Road Initiative, Prince Andrew said.
He hoped the project would contribute to the building of a community with a shared future for mankind and would help improve people's well-being.
Meeting with Prince Andrew in May 2018, President Xi Jinping stressed that closer scientific and technological cooperation between China and the United Kingdom would help create mutual benefits in the "golden era" of Sino-UK relationship.
As a platform on which international professionals and talent gather to exchange ideas and explore development opportunities, this year's conference is expected to attract more than 40,000 government officials, experts and professionals from over 50 countries and regions.