Liaoning to open tourist train during Spring Festival
A new train service will be inaugurated during Spring Festival, catering to tourists who want to celebrate the festival in a winter wonderland.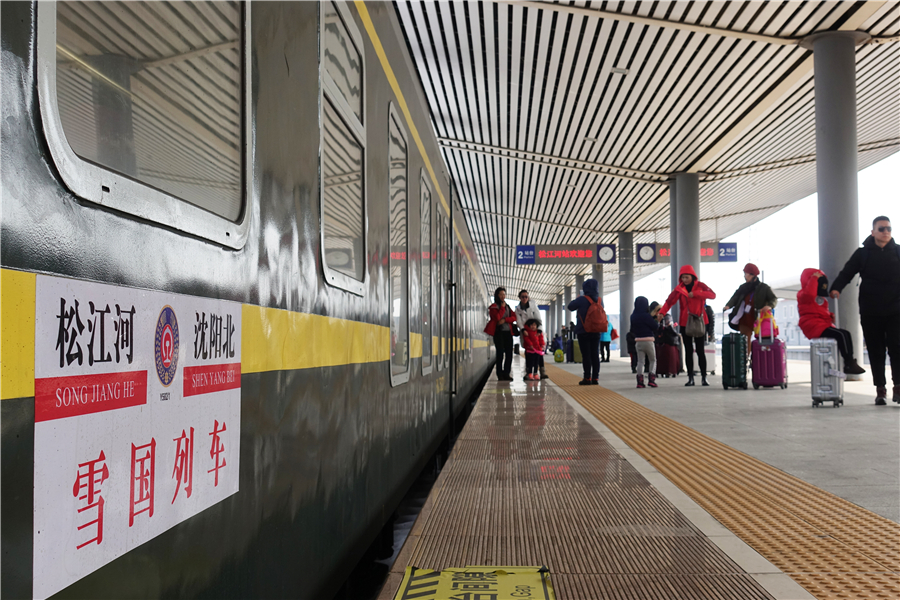 Passengers board the winter tourist train of Shenyang Bureau Group Co of China Railway. (Photos: China Daily)
According to Shenyang Bureau Group Co of China Railway, passengers can enjoy one-stop service on the trains and also be able to go and occasionally visit scenic spots along the rail journey.
The service will cover more than 20 special routes in Liaoning and other northeastern provinces, which feature major winter tourist destinations and an impressive array of winter sports, according to Wang Shushan, deputy general manager from Shenyang Railway International Tourism Service.
With China's successful bidding for the 2022 Winter Olympic Games and the central government's call for "300 million people to join in ice and snow sports", winter tourism is becoming hot a choice for Chinese families, especially from central and southern China where there is rarely snowfall. This has also boosted the winter tourism market in Liaoning, which boasts outstanding geographical and cultural resources.
According to the tourism industry report, Liaoning's tourism revenue reached 3.13 billion yuan, receiving 4.471 million tourists, a year-on-year increase of 30 percent in January 2018.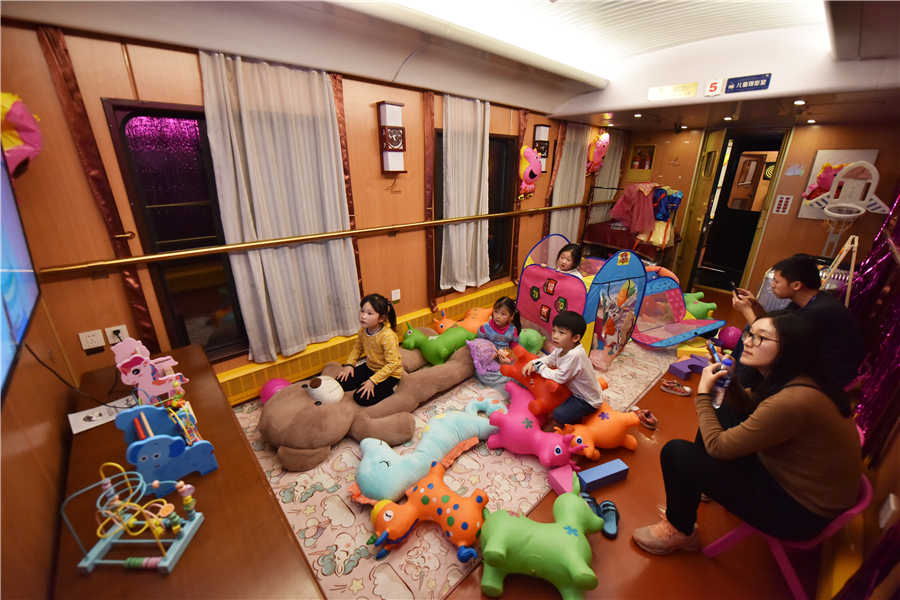 Children play inside the winter tourist train of Shenyang Bureau Group Co of China Railway.
"We are trying to turn ice and snow resources into economic advantages and aim to build one of the most important ice and snow tourism destinations in China," said Wang Xiaojiang, deputy director of the Liaoning provincial department of culture and tourism.
According to a survey by China Tourism Academy, the past year saw significant growth in winter tourism and Liaoning ranked in the top three with an increase of 139 percent. Shenyang, Dalian and Dandong have become hot destination cities for tourists from Guangdong, Shanghai and Hunan.
Industry experts suggest that the winter tourist train will help Liaoning transform "cold resources" into a "hot industry". Local authorities should do well in differential competition and find a niche market compared with their counterparts from home and abroad.
"Access to both snow and ice activities makes Liaoning province a suitable destination for family trips and winter tourism. Liaoning can make full use of its location and service advantage, and tourism products should pay attention to participation and interaction," suggested Liu Wenjun, an expert in the tourism industry.