CAS provides $268 mln for B&R science projects
The Chinese Academy of Sciences (CAS) has provided over 1.8 billion yuan ($268 million) for Belt and Road (B&R) science and technology projects since the B&R Initiative was proposed in 2013, said CAS President Bai Chunli on Friday.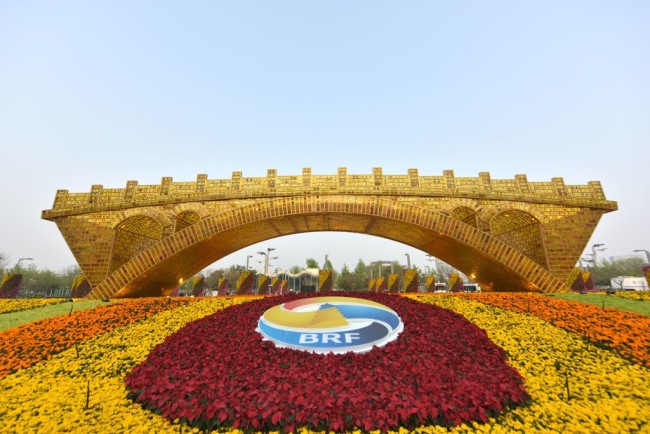 A Belt and Road-themed garden has debuted at a park in Beijing on April 18 to welcome the upcoming Belt and Road Forum for International Cooperation. (Photo: IC)
Bai made the remarks at a press conference on the science and technology cooperation between China and B&R countries.
The Alliance of International Science Organization (ANSO) was launched in the Belt and Road Region last November. According to Bai, ANSO members recently clarified its vision and mission, pledging to make it an international organization with great influence in promoting, organizing and carrying out Sci-tech innovation.
The first 37 ANSO members have formed the ANSO Action Plan for 2019-2020. It plans to set up awards, scholarships, industry associations and joint training projects, in order to build a great mechanism and platform for sci-tech cooperation, meet common challenges and promote sustainable development.
Meanwhile, the CAS has trained for B&R countries and regions nearly 5,000 high-level Sci-tech talents including more than 1,500 with Ph.D. or master degrees in science and engineering. Many of them have returned home and become a new force in building the B&R.
Bai said the CAS, based on the principle of achieving shared growth through discussion and collaboration, has built nine overseas science and education centers in B&R countries and regions and the tenth center is currently in the works.
He noted that the overseas centers have become significant platforms to carry out scientific collaborative projects, helping to resolve livelihood issues in those countries and regions.