Honeysuckle changes fortune of Gansu county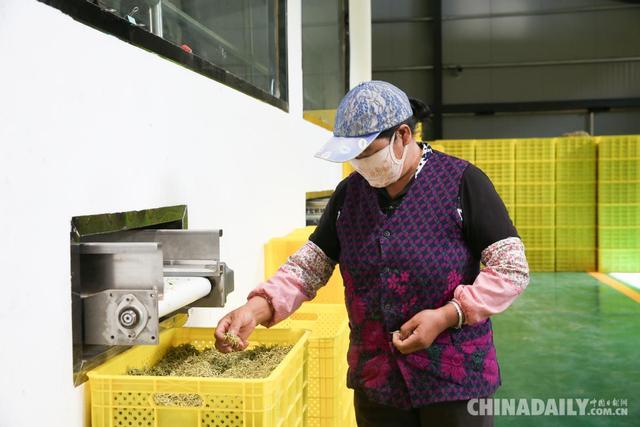 A villager checks dried honeysuckle flowers in a workshop in Lijiadian village of Lidian township in Tongwei county, Gansu province, on Sept 4, 2020. (Photo: China Daily)
Once unknown, the honeysuckle has gradually unleashed its power and become a key tool in the fight against poverty in Tongwei, an impoverished county in Northwest China's Gansu province.
Known as Jinyinhua in Chinese, meaning "golden and silver flower," the herb can withstand low temperature and arid conditions in the northwest region. After four years of experimental plantation, the local government began to encourage local farmers to plant the flower on a large scale and promote related business in 2017.
Now, 40,600 households, including 19,300 families, have planted 100,000 mu (6,667 hectares) of honeysuckles in Tongwei, according to local government.
Zhang Zhiming, 56, was one of the earliest honeysuckle growers in Lijiadian village of Lidian township in the county.
Zhang has shifted 0.67 hectare of cropland to plant honeysuckles for three years. "At the beginning, I just wanted to give it a try and I was unsure whether I would be able to sell it," Zhang recalled.
The harvest in 2017 was not satisfactory because of lack of knowledge about the flower and planting technology, he said.
To help solve the problem and motivate more villagers to join the industry, the village cadres have been dedicated to taking the lead in planting the flower, visiting households to introduce the benefits, organizing experts to train villagers on field management and fertilization, according to Zhang Jiansheng, Party chief of the Lidian township.
With proper training, the output of Zhang's honeysuckles has increased year by year, while also reducing his doubts about the business.
"This year is the best year for the honeysuckle harvest, and I have earned a net income of 20,000 yuan ($2,924)," he said.
The local government has also introduced enterprises to purchase and process honeysuckles. Zhai Yusheng, chairman of Qingliangyuan processing company, said that the company has established 11 factories to bake honeysuckles, and each factory has three to five collection spots to purchase flowers.
The company processes baked honeysuckles into products such as tea, alcohol, distilled liquid, as well as daily necessities such as liquid soap. It also sells baked flowers to pharmaceutical factories.
After three years planting under guidance, minimum income of each mu could exceed 5,000 yuan, Zhai said.
The company also provides jobs for local villagers, employing more than 60,000 people a year. "They can come to my company to work any time they want," he said.
After finishing planting and picking honeysuckles, Zhang Zhiming works in the company during slack time, with monthly income reaching 2,000 yuan.
The whole township of Lidian has planted 580 hectares of honeysuckles, and 79 percent impoverished household are growing the flower, according to Zhang, the Party chief.
The output value of honeysuckle reached 12 million yuan in 2019, average household income increased to more than 7,000 yuan, and the figure will exceed 15,000 yuan, he said.
Over the past three years, Lidian township has completely transformed the agricultural industry, making the honeysuckle industry one of its leading industries and a pivotal in poverty relief efforts, he said.