Philippine airport accident causes flights cancellation, diversion
Philippine aviation authorities decided on Friday to close the runway in Manila airport where a Xiamen Airlines passenger plane skidded off the runway late Thursday night, causing flights cancellations and diversion to other airports.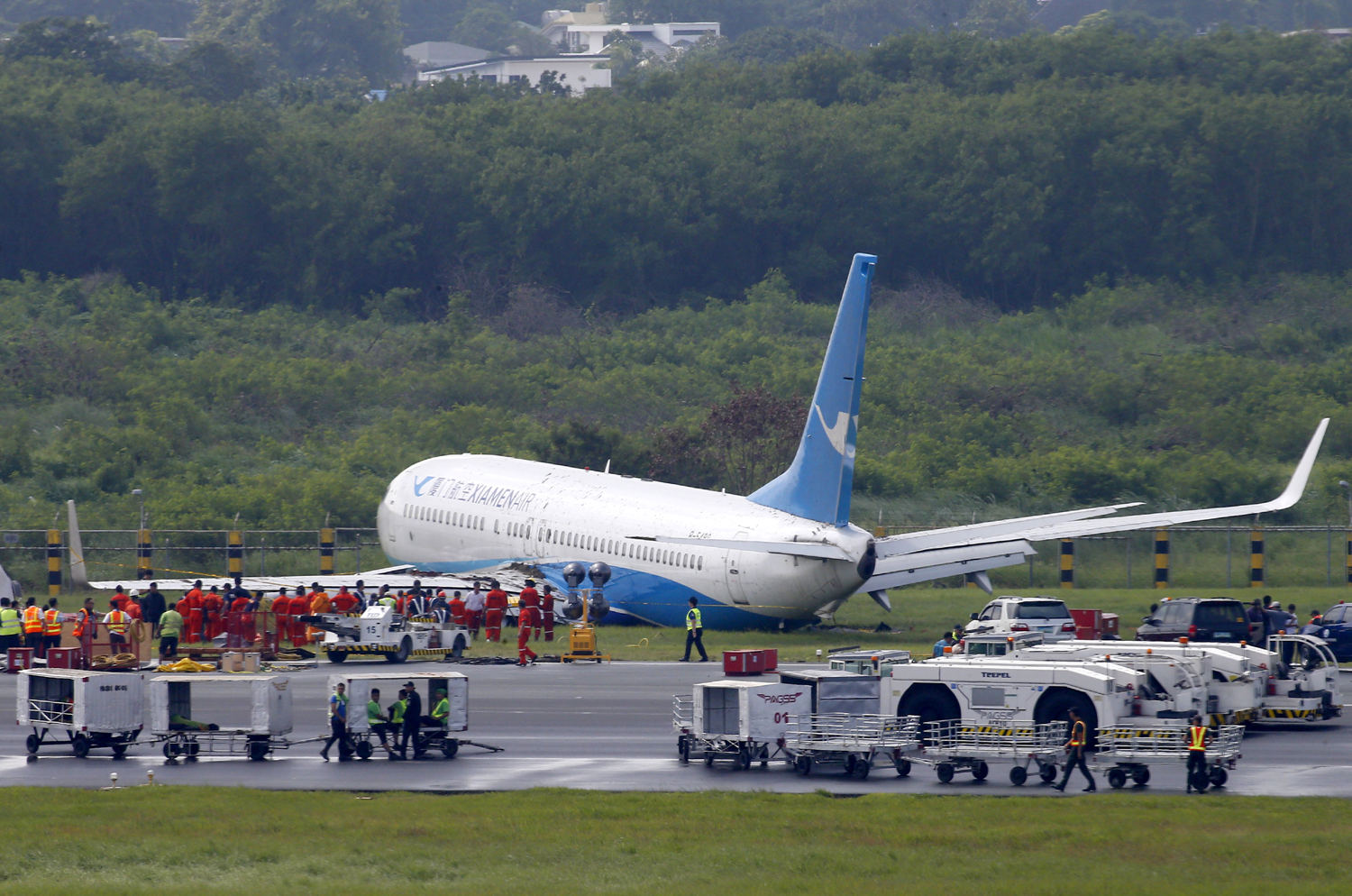 A Boeing passenger plane from China, a Xiamen Air, sits on the grassy portion of the runway of the Ninoy Aquino International Airport after it skidded off the runway while landing Friday, Aug. 17, 2018 in suburban Pasay city southeast of Manila, Philippines. (Photo: AP/Bullit Marquez)
On early Friday morning, the Manila International Airport Authority (MIAA), which operates the Ninoy Aquino International Airport in Manila, and the Civil Aviation Authority of the Philippines (CAAP) issued a joint statement.
The authorities said in the statement that the Boeing 737-800 plane suffered "runway excursion" at 11:55 p.m. local time on Thursday. Runway excursion means that the plane veered or overrun from the runway surface while landing.
In the case of the Xiamen Airline flight number MF8667, authorities said it swerved off the runway and onto the grass at the Manila international airport after a "missed approach" due to "heavy downpour."
The authorities confirmed that all of the passengers and crew from the Xiamen Airline plan are safe.
In a news conference on Friday morning, MIAA and CAAP added that the passengers and crew are now billeted in a hotel.
Moreover, the authorities said that passengers were evacuated using the aircraft's emergency chute and were brought to the terminal where they were provided with blankets and food before they were brought to a hotel.
MIAA General Manager Ed Monreal said there is a need to clear the runway of debris from the damaged engine and landing gear of the plane.
CAAP spokesperson Eric Apolonio said the affected runway will be temporality closed until 4:00 p.m. on Friday.
A total of 12 flights were cancelled on Friday morning as a result of the accident.
The plane still sits in a patch of grass to the side of the runway.
Apolonio said the plane will remain on the main runway of Ninoy Aquino International Airport until the investigation is concluded.
"Investigators from the CAAP Aircraft Accident Investigating Bureau is already on site to determine the cause of the accident," the authorities said.