Beijing police seek to stop rumors about infection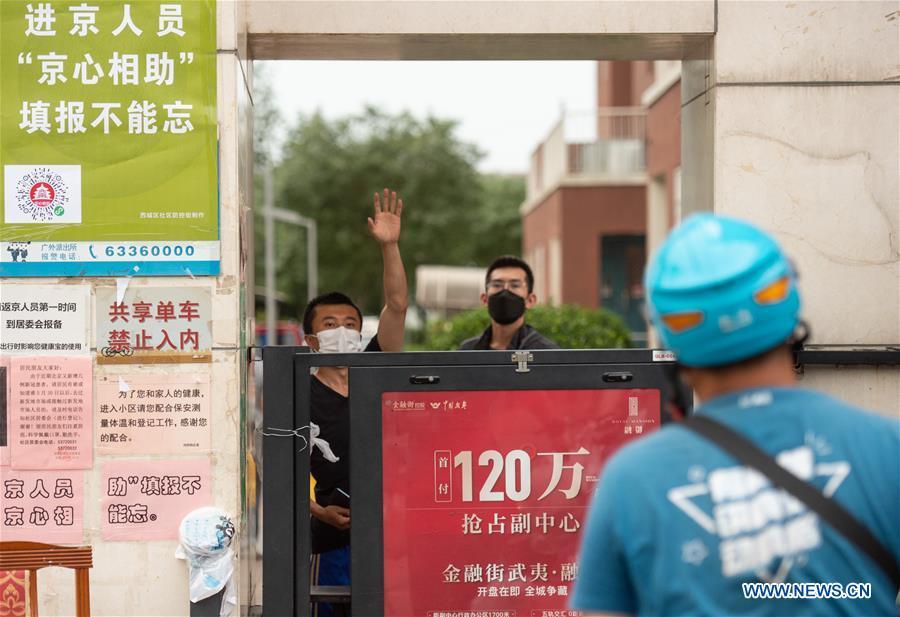 A resident waves to a deliveryman at the entrance of a community in Xicheng District of Beijing, capital of China, June 17, 2020. (Photo: Xinhua)
Police in Beijing are using tough methods to crack down on internet rumors about the city's coronavirus outbreak, with a total of 10 people taken into custody.

Of those cases, one person was criminally detained while the other nine received administrative detention, said Pan Xuhong, spokesman for the Beijing Municipal Public Security Bureau.
At a news conference on Friday, Pan said the bureau has cracked down on 60 cases related to the spreading of rumors in the past days since the city reported a new domestic COVID-19 infection related to the Xinfadi wholesale agricultural market in Fengtai district on June 11.
He also provided details of some cases. For example, he said a 69-year-old resident surnamed Tan created a false message that said tests of 8,300 close contacts with people newly identified as infected at the Xinfadi market had nearly 3,000 positive results.
Tan sent the message to his friend, surnamed Wu, who later shared the message in chat groups via WeChat. Both Tan and Wu have received administrative detention.
Pan said people should be aware of such fake news or rumors, and the bureau welcomes reports from the public about them.
"The Beijing police department will not tolerate rumors that threaten the city's stability," Pan said. "We encourage residents to get information about the latest epidemic control via news conferences and the official news releases by related departments."
Also on Friday, Li Fengqin, director of the microbiology lab at the China National Center for Food Safety Risk Assessment said it was possible that both food and packaging could be contaminated by exposure to the coronavirus.