China's NEV manufacturer to offer electricity charging service
SHANGHAI, April 16 (Xinhua) -- NIO Inc., a pioneer in China's premium electric vehicle market, announced that it would offer charging pickup services to ease the "charging anxiety" of car owners in China.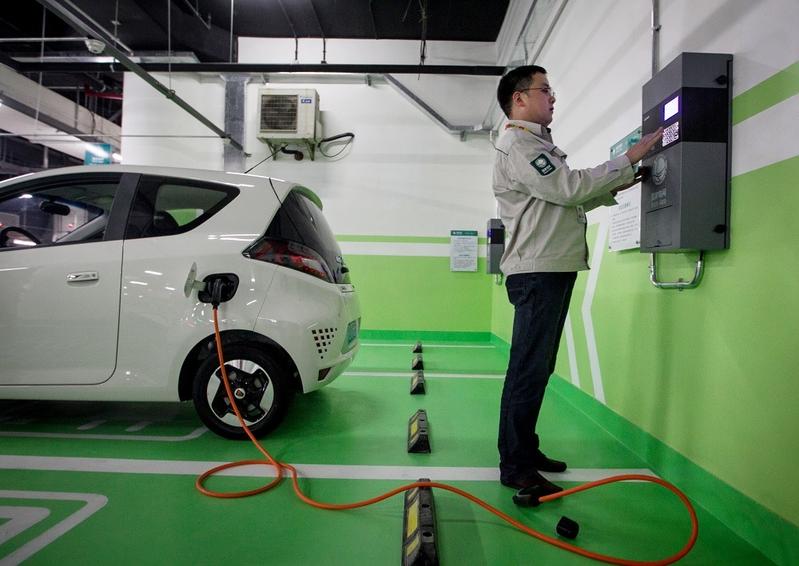 A technician inspects the charging piles, or power ports, in a parking lot in Shanghai. (File Photo: Xinhua)
By opening a mini-program named "NIO Charging" on WeChat and typing in a location, a person's car will be picked up for charging, and the fully-charged car will be returned to the same location within a few hours, William Li, founder and CEO of NIO said on Tuesday during the ongoing Auto Shanghai 2019.
The service will be offered by the company to all electric vehicle owners in China, costing 280 yuan (41.7 U.S. dollars) per service.
"The service personnel will go to the nearest power station or NIO Power Swap station to charge the cars depending on whichever is the most convenient," Li said.
"The trend of new energy vehicles may be faster and stronger than expected, and I think more and more people recognize Chinese carmaker's advanced technology and ambition to lead," Li said.
According to Li, the company has attained more than 3,000 patents so far and was one of the first to get a license to test unmanned driving on an open road in Shanghai.
At Auto Shanghai 2019, NIO offered the first glimpse of its all-new Sedan product line with the ET Preview and exhibited pioneering technologies including a 220 kW permanent magnet synchronous motor electric drivetrain, and a carbon fiber battery pack.
Founded in November 2014, NIO is headquartered in Shanghai. The company also operates R&D centers in cities including Beijing, San Jose, Munich and London. NIO completed its initial public offering on the NYSE last September.