Steps laid out to achieve carbon goals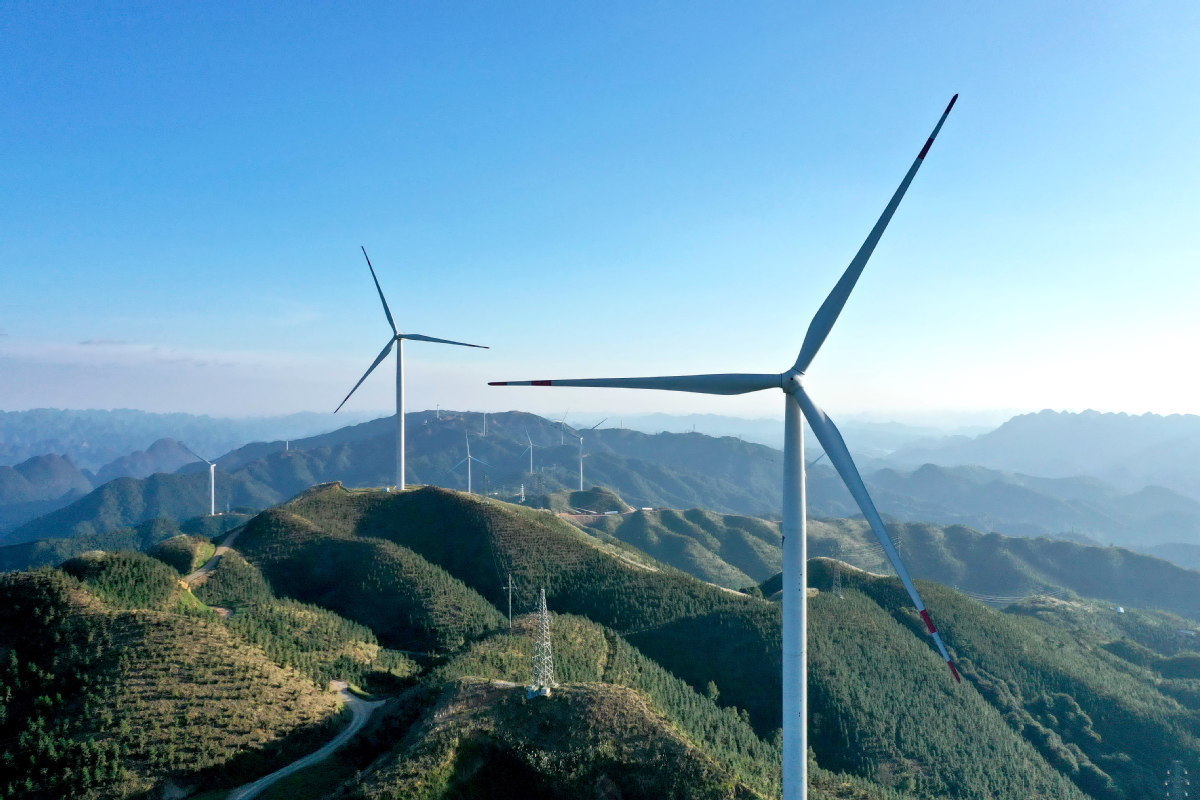 China aims to reach a carbon dioxide emission peak of 12.2 billion metric tons by around 2027, and cap its greenhouse gas emissions at 2.6 billion tons of CO2 equivalent before 2060, according to a report published by the Chinese Academy of Engineering on Thursday.
A CO2 equivalent is a measure of various greenhouse gases on the basis of their global warming potential.
The report is a product of the academy's key consulting program on China's strategies and pathways for achieving its carbon peak and carbon neutrality goals, which has gathered suggestions from over 300 experts from dozens of agencies and research institutions.
Li Xiaohong, president of the academy and one of the leaders behind the program, said the report will serve as an important advisory document to guide future key innovations and China's transition to a green economy.
In 2020, China's total carbon emissions were 13.9 billion tons of CO2 equivalent, or around 30 percent of the world's total, Li said at the launch ceremony of the report during the Sixth International Forum on Innovation and Emerging Industries Development.
The main sources of China's emissions were from industry, which contributed 38 percent, and electricity production, which contributed 33 percent.
Li listed the main challenges in China's pursuit of its two carbon goals as being ongoing industrialization and urbanization, industrial restructuring and the elimination of outdated production capacity, unbalanced regional development, geopolitical conflicts reshaping the global energy landscape, a global recession caused by COVID-19 and extreme natural disasters.
"These difficulties and uncertainties pose challenges to our carbon emission reduction goals," he said. To address these challenges, the academy has formulated eight strategies and seven pathways.
According to the report, if these plans are carried out successfully, China may reach its carbon dioxide emission peak at 12.2 billion tons by around 2027, produce around 80 percent of its energy by non-fossil fuel means by around 2045, and achieve its carbon neutrality goal before 2060.
"Before 2060, carbon neutral energy and economic systems will take shape so fossil fuel consumption will mainly occur in special scenarios," he said.
The first and arguably most important strategy is prioritizing energy conservation and improving the energy efficiency of the whole society, Li said. The second strategy is safeguarding energy security by ensuring fossil fuel supplies, and preventing risks arising from dependence on imported oil, gas and key minerals.
The remaining strategies include ways of replacing fossil fuels with renewable energy, especially within industry.
Others include industrial resource recycling, enhancing the capacity for carbon absorption and research on carbon removal technologies, improving carbon reduction and management using digitized measures, and engaging in international cooperation.
The seven pathways toward the two carbon goals involve optimizing and upgrading existing industrial structure, and creating a safe, clean, highly efficient low-carbon energy system, Li said.
China's coal consumption should peak by around 2025, oil consumption should peak by around 2030, and natural gas consumption should peak by around 2035, he added. By 2060, fossil energy will mainly be used in guaranteeing energy supplies and providing industrial raw materials.
China will reshape its energy system with non-fossil fuel sources by cutting coal use at power plants, improving energy storage and establishing a capacity compensation mechanism and auxiliary service market so that market forces can play a bigger role in promoting new energy development and use.
Industry, transportation and construction sectors will adopt new technologies to reduce their carbon emissions and become more sustainable, Li said.
With carbon emissions being linked to socioeconomic development, China is investing in means of carbon removal, from natural carbon sinks like forests to carbon capturing and storage technologies, so as to remove gases and achieve net-zero in CO2 emissions.
For China to successfully implement these strategies and achieve its goals, it is imperative for the whole country to have a grand, coordinated plan, while allowing some industries and regions to explore and move ahead of the curve with their carbon reduction agenda.
Energy-intensive industries should take the lead in reaching their carbon emission peaks, and sectors where it is relatively easier to go green should take the lead in achieving net-zero emissions, he said.
"We should make science-based decisions and avoid a one-size-fits-all approach," he said.