Senior Chinese official reveals top level design of economic policy in Davos
People's Daily app
1516792699000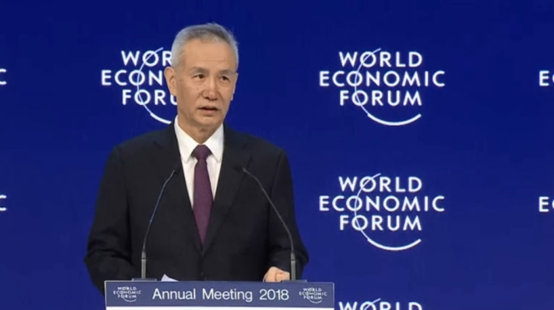 Liu He delivers a keynote speech during the World Economic Forum's meeting in Davos on January 24, 2018. (Photo: CGTN)
Davos(People's Daily) - Liu He, a member of the Political Bureau of the Communist Party of China Central Committee, revealed top level design of economic policy at the ongoing World Economic Forum Annual meeting 2018 in Davos, Switzerland Wednesday.
"The report of 19th CPC National Congress is a highly transparent policy agenda. It lays out the promises that will be delivered to the Chinese people. The fulfillment of this report will also bring about new opportunities for the development of other countries in the world,"Liu said at the forum.
Liu said that China's economy has been transitioning from a phase of rapid growth to one of high-quality development. To improve the quality of the supply-side reform is the basic pathway leading to high-quality development.
The priority at the moment is to cut excess capacity, reduce inventory in the housing sector, bring down the overall leverage ratio, lower cost across the board, and strengthen the weak links in the economy ranging from public services to infrastructure and institutions, Liu said.