8,000 tested in Dalian after 4 asymptomatic cases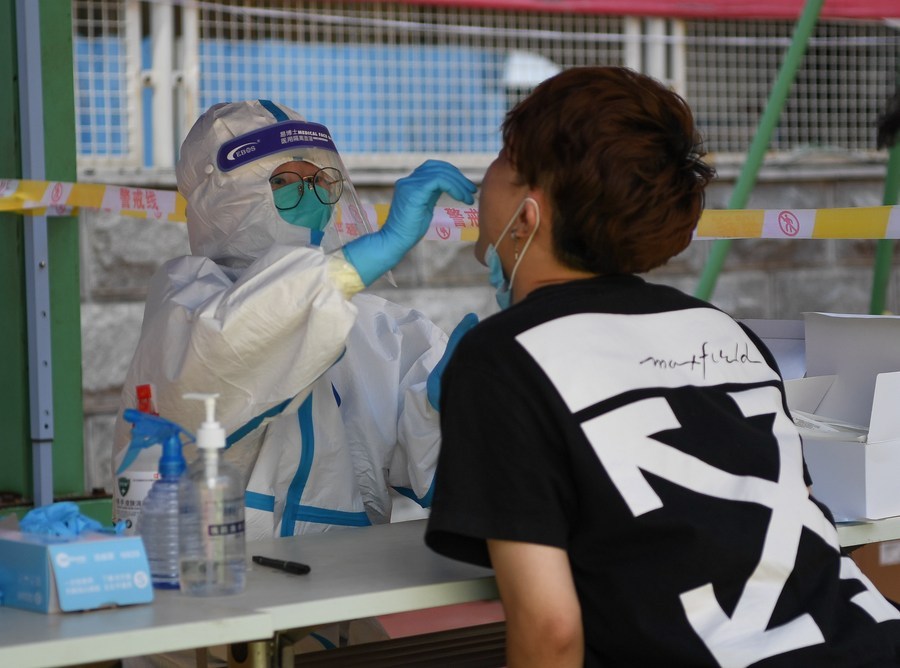 More than 8,000 people in Dalian, Liaoning province, have been tested for novel coronavirus after the city reported four new asymptomatic cases of COVID-19 on Tuesday. All the results by noon Wednesday were negative, though more remained to be returned, an official with the city's health commission said at a news conference.
Zhao Lian, deputy director of Dalian's health commission, said 24 people had been identified as having had close contact or secondary contact with the four asymptomatic individuals. Those who may have had contact with them were also quarantined for observation. Their nucleic acid test results were also all negative.
The testing started on Tuesday night and was carried out in the community where the four people live. By noon Wednesday, 8,154 people had been tested, with 3,715 negative results returned, she added.
Zhao said the four new asymptomatic cases of COVID-19 were found in a team of workers engaged in unloading imported cold food for Dalian Port Yidu Cold Chain.
On Dec 8, they were given routine nucleic acid tests and the results were all negative. Under the rule that employees in the imported cold food sector should be tested weekly, they took another test on Dec 15 and the results came back positive, Zhao said.
They were transferred to the city's designated COVID hospital-Sixth People's Hospital of Dalian-and were found to have asymptomatic infections.
Meanwhile, in Heilongjiang province, a 24-year-old female kindergarten teacher was reported as a local asymptomatic case of COVID-19 on Wednesday in the port city Suifenhe, the provincial health commission said.
The woman was found to be positive on Tuesday as testing was conducted on close contacts under quarantine and was then diagnosed as asymptomatic, the commission said.
All her close contacts have been quarantined and the authorities have disinfected and closed places she visited.