Family moments captured, for free, in Tibet
People's Daily
1591237803000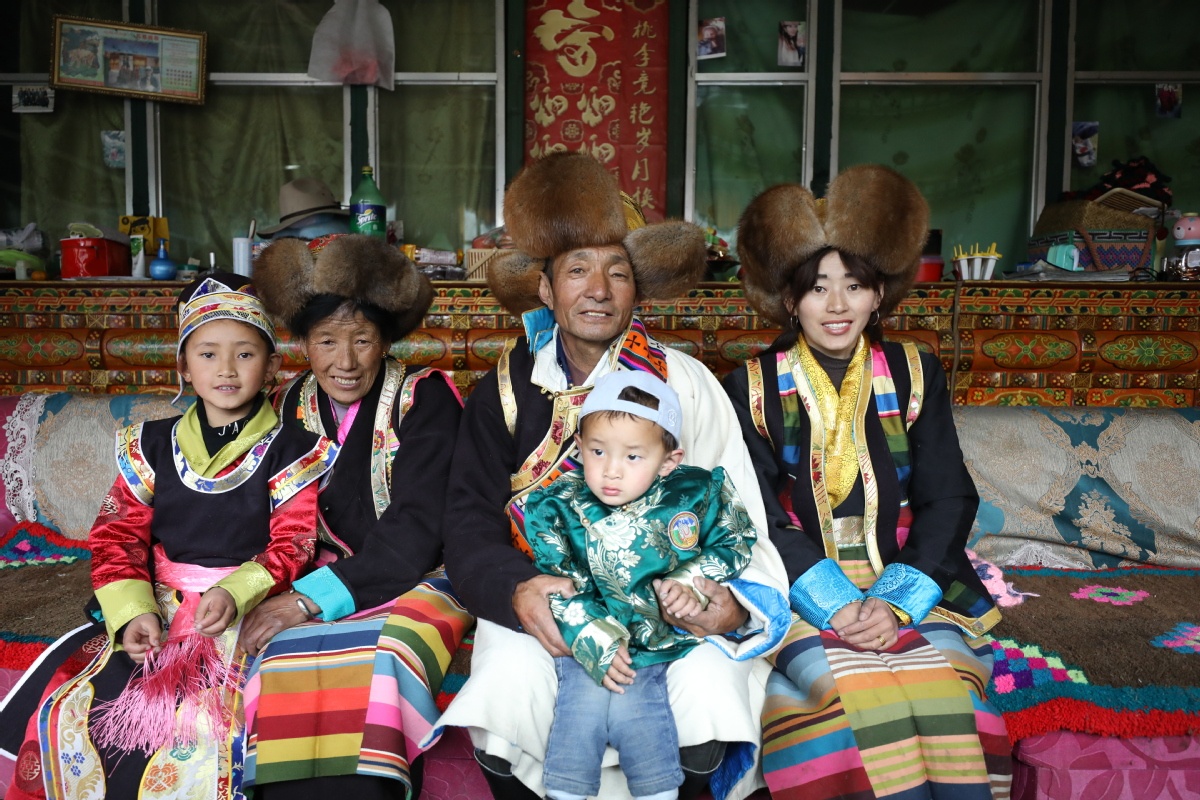 A portrait of Bu Kalsang (center, holding boy) and his family is taken for free on May 23 in Tibet's Chonggyai county. A team of volunteer photographers has traveled to five villages and communities in the county to take photos for 236 families. CHOGYAL/FOR CHINA DAILY
Phuntsok Tashi was delighted when volunteer photographers recently took a family portrait for him-his first ever.
"Three of us in my family are elder people," he said. "These volunteers are really good. They came to our doorstep for the generous offer, and we were all pleased to take a family portrait.
"It's a forever memory of the current time for us, and we really appreciate the service."
The team of volunteer photographers from Chonggyai county of the Tibet autonomous region has been taking family portraits, free of charge, for remote villagers in Tibet.
The team's 14 members, all volunteer photographers, focus on the lives of the county's rural villagers.
Over the past two weeks, the team traveled to five villages and communities in the county's Chonggyai township, where they photographed 236 families.
Their family portrait studio, established in 2019, has conducted many photography activities for the county's rural villagers, and its volunteers have helped people remember happy moments in their lives.
Dressed in their newest and best clothing, family members wait excitedly for their picture to be taken. For many, it's their first family portrait.
Padron, who lives in the Sholpa residential community of Chonggyai township, said she was impressed when the team took photos at their door.
"They are professional, and it is free, so we feel that we are very close to culture," said Padron.
Samtan, one of those responsible for the studio, said most of the photographers are people who work in the government sector. He added that his team has taken more than 300 family portraits of villagers, and he was glad to find that many of them had never had such a picture taken before.
"We want to not only record their life images, but also convey the social and economic changes of the county," he said.
"We have elicited many smiles while shooting the portraits, and we want to make more residents feel the warmth of the government."
Lhakpa Tashi, one of the studio's volunteer photographers, said the project has created a platform for the photographers to communicate, exchange ideas and learn from one another, adding that the photo studio also provides photography equipment.
"Our shootings help people to record different sides and images of society and people's lives, and we can observe the moments of love via these photos," Lhakpa Tashi said.
"What we have given the villagers are not only photos enriched with different memories and life stories, but love and friendship."