Testing intensifies as clusters of infections increase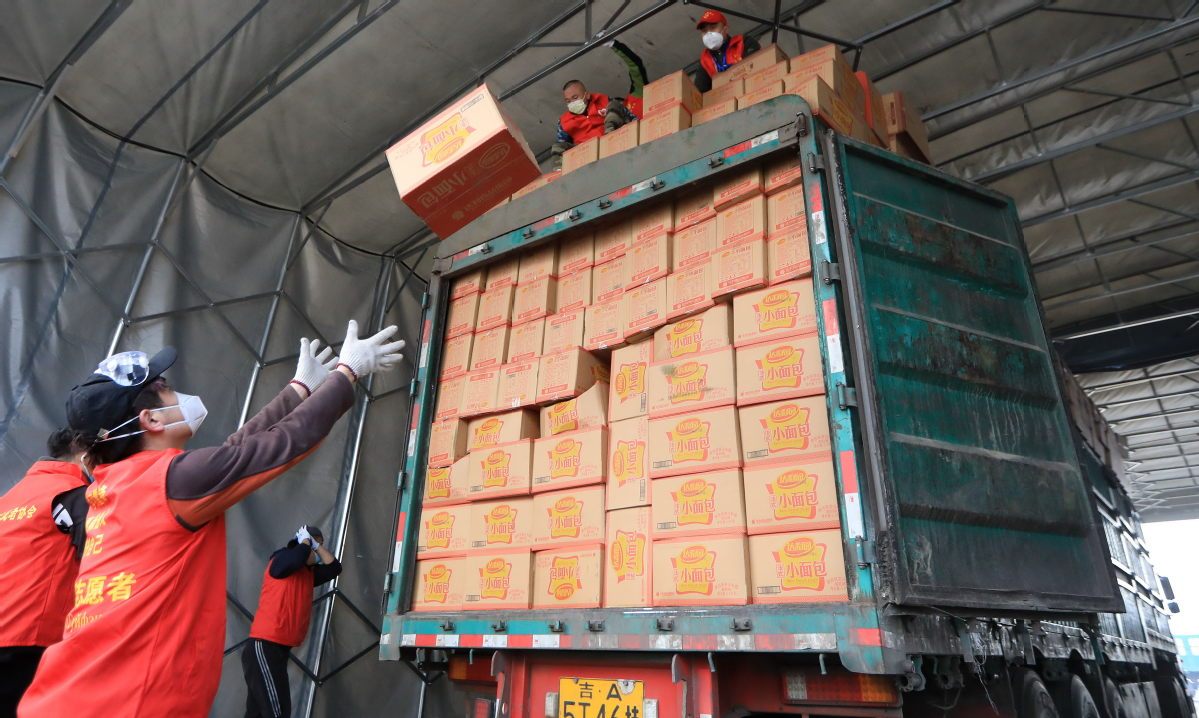 Volunteers unload coronavirus-control supplies in Suifenhe, Heilongjiang province, on April 19, 2020. (Photo: China Daily)
China is coping with a steady increase in domestic clusters of novel coronavirus infections triggered by people arriving from overseas as local governments intensify testing among high-risk groups to stem a resurgence of the virus.
The Chinese mainland added 16 new infections on Saturday, including nine cases detected in inbound arrivals-the lowest number of daily imported cases in a month-the National Health Commission said.
Though the number of locally transmitted infections dropped to seven on Saturday after four days of maintaining double-digit daily growth, a few regions are facing mounting pressure as clusters of infected people seeded by imported cases rise, commission spokesman Mi Feng said on Sunday.
"The situation highlights the significance of ensuring close management of the epidemic and cutting off community transmission of the virus," he said.
Of the newly added domestic cases on Saturday, six were detected in Heilongjiang province, bringing the total number of confirmed cases there in the past 10 days to 38. In addition, 23 domestic asymptomatic cases were identified during the period, according to the provincial Health Commission. The other domestic case on the mainland was in Guangdong province.
Many of the locally transmitted infections in Heilongjiang are believed to be associated with a few cases in Harbin, the provincial capital, including an 87-year-old man who was recently hospitalized for stroke and infected medical workers and patients in his ward, as well as other people who had come into close contact with him. The source of his infection was reportedly a person in close contact with a young Chinese student who studied abroad and returned to Harbin on March 19.
As the increase in locally transmitted infections underscores the menacing contagiousness of the virus, an increasing number of regions are stepping up testing to sever possible chains of community transmission.
Harbin's city government said on Saturday evening that it will conduct free nucleic acid and antibody tests on all senior high school students and their family members, as well as teachers and staff members involved in their studies. Before tests are completed, all courses will be conducted online.
Beijing has also stressed improving testing capacities to cover all groups at high risk of contracting or transmitting the virus. It has identified eight groups that must take nucleic acid tests, including confirmed cases and their close contacts, visitors to fever clinics, patients planning to be hospitalized and inbound travelers from overseas or other regions in China, the city government said on Sunday.
In Wuhan, the hardest-hit city in China, wider testing has been rolled out since the lifting of outbound travel restrictions on April 8 as more people travel out of the area to return to work.
Hubei's provincial government announced on Saturday that the epidemic risk rating for Wuhan had been downgraded to low for the first time since the province started publishing risk evaluations in late February. The updated status meant that all cities and counties across the province are now deemed at low risk of spreading the virus.
Wuhan had reported no new infections for two weeks and had added no new suspected cases since March 18, local authorities said on Saturday.
To minimize the risk brought by the city's eased traffic restrictions, the National Health Commission mandates that anyone who works in service sectors or places where exposure to the public is high must take nucleic acid tests for the virus before leaving Wuhan, according to a notice released on Saturday.
The requirement covers teachers, medical staff and other workers at elderly care homes, jails and detention centers. Testing fees will be covered by the government, the commission said.
Other people who intend to leave Wuhan can also take voluntary tests but need to shoulder the costs themselves, and medical institutions in Wuhan are required to fulfill their demands.
By showing test results that attest to their virus-free status, people from Wuhan are allowed to resume working at their destinations, the commission added.
Tian Xuefei and Zhou Huiying contributed to this story.