Working from home might become common in future, say experts
chinadaily.com.cn
1586432441000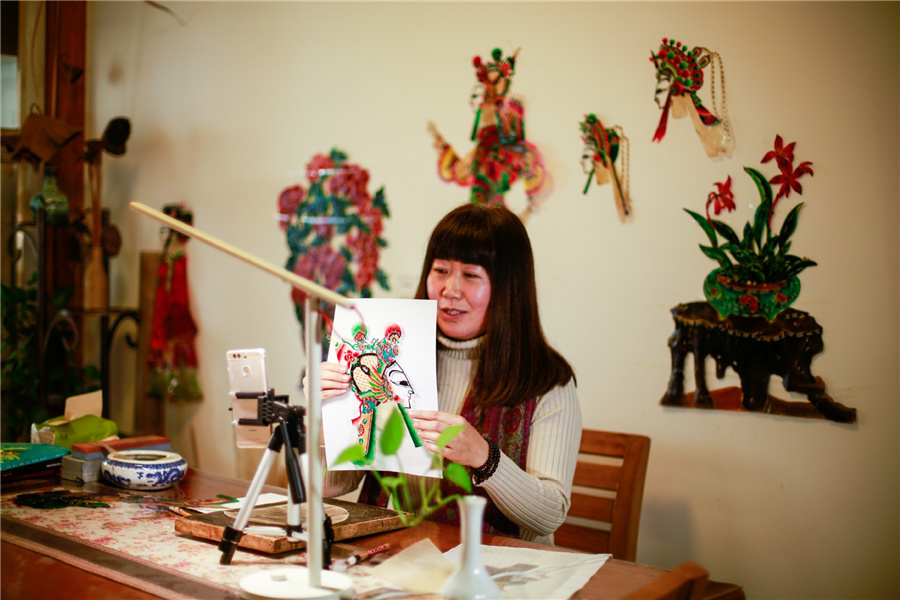 A teacher livestreams leather carving techniques used in shadow puppetry, in Luanzhou, North China's Hebei province, on March 15, 2020. (Photo: Xinhua)
Flexible workplace arrangements, which include working from home, may become more commonplace even after the COVID-19 pandemic is over, said industry observers during a live broadcast on Wednesday about opportunities related to the Chinese economy.
During the broadcast, which was jointly hosted by professional networking site LinkedIn and FTChinese.com, the Chinese online publication of the Financial Times, industry insiders highlighted that the pandemic has given company managers the chance to transform their human resource management model from work attendance-oriented to task-oriented. This experience has also allowed managers to gain new insights into new models of team management and performance appraisal.
According to LinkedIn data, user searches for "telecommuting" soared by 260 percent year-on-year in the past two months. Statistics from companies in China have also showed that more than 60 percent of employees have worked from home in the past two months, with the rate being higher among those in the internet, finance, e-commerce and education fields.
"More flexible working hours and telecommuting, which provide employees with more freedom to achieve work-life balance and their potentials, will become a trend in the future," said Lu Jian, president of LinkedIn China.
"New technologies, such as virtual reality and artificial intelligence, may empower such a trend with a richer experience," he added.