ECA chief sees upcoming BRI forum as platform for boosting Africa's infrastructure, logistics drive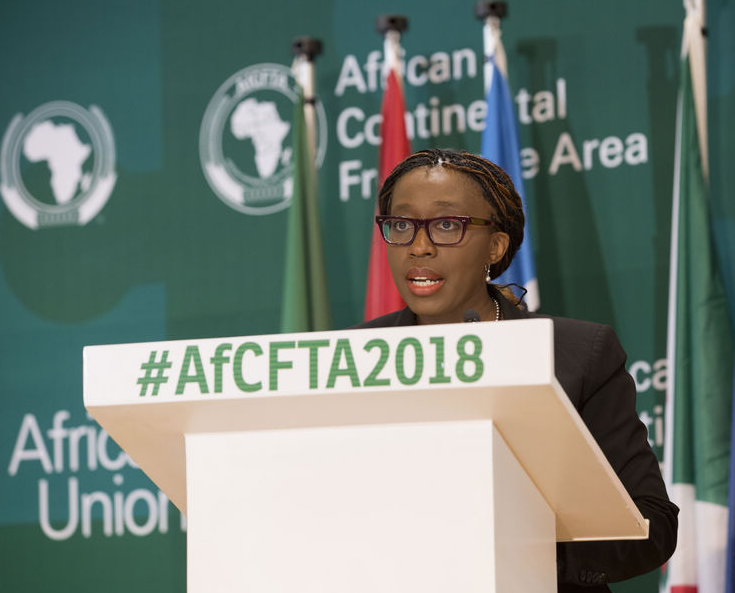 File photo shows Vera Songwe, Under-Secretary-General of UN and Executive Secretary of the UN Economic Commission for Africa, speaking during an African Union (AU) Executive Council meeting in Kigali, capital city of Rwanda on March 19, 2018. (Photo: Xinhua)
Africa's focus at the upcoming Belt and Road Forum for International Cooperation will be speeding up the logistics and infrastructure drive on the African continent, the chief of the UN Economic Commission for Africa (ECA) has said.
Faster and more efficient application of the African Continental Free Trade Area (AfCFTA) agreement basically needs logistics, ECA Executive Secretary Vera Songwe told reporters in Addis Ababa late Wednesday.
The second Belt and Road Forum for International Cooperation is scheduled to open in Beijing in late April. Representatives from over 100 countries, including about 40 leaders of government, have confirmed their attendance.
"We will care about the most... how we can speed up the logistics and infrastructure that we need to make the AfCFTA a viable agreement," Songwe said. "That means building more rails, for example, in an efficient way, and energy as part of that initiative."
"When we work on transport projects, we work also on digital communications," she said.
Songwe said Africa will also try to "understand the governance around how countries access initiatives around the Belt and Road Initiative (BRI)."
The executive secretary hailed the role of the BRI in helping Africa upgrade its infrastructure and create more jobs.