HKSAR bears constitutional obligation for national security: officials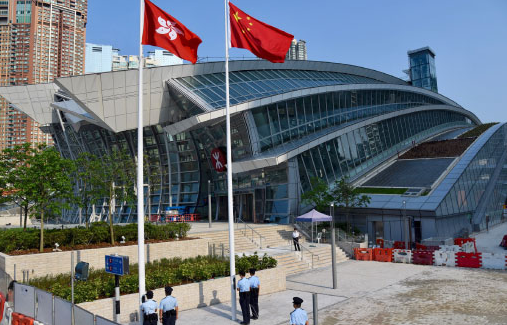 The national and Hong Kong SAR flags flutter outside the Hong Kong's West Kowloon Station. (Photo provided to China Daily)
HONG KONG - It is a constitutional obligation for China's Hong Kong Special Administrative Region (HKSAR) to safeguard national security in successfully implementing the principle of "one country, two systems", officials have said at a symposium here.
"The successful implementation of 'one country, two systems' is impossible without national security. Here in Hong Kong, we must always keep the special administrative region's constitutional obligation close at heart," Wang Zhimin, director of the central government's liaison office in HKSAR, said at the symposium on Monday to mark China's fourth National Security Education Day.
Also speaking at the symposium, HKSAR Chief Executive Carrie Lam said that national security is the corner stone of a country's stability and the best guarantee for its people's well-being, and Hong Kong, as an integral part of China, has the responsibility to safeguard China's national security.
In the new era of China's reform and opening up, Hong Kong needs to take a more active part in the country's national governance, and make efforts to improve its citizens' national security awareness, Lam said.
The HKSAR government bears the constitutional responsibility for local legislation on national security in accordance to the Hong Kong Basic Law Article 23, Lam said, adding that her government will continue its efforts for a favorable social environment for the legislation.
Before the completion of the local legislation, the HKSAR government will not turn a blind eye to any deed violating the national constitution and the Basic Law and jeopardizing national security, she stressed.