China opposes military response to Syria's alleged gas attack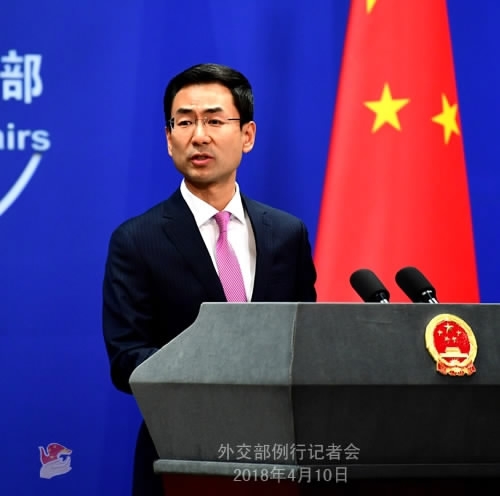 Chinese Foreign Ministry spokesman Geng Shuang (Photo: Chinese Foreign Ministry)
China has urged a peaceful settlement of disputes over Syria and reiterated its opposition to military approaches following a suspected chemical weapon attack in the Syrian town of Douma on Saturday.
"The Syria issue is at a critical crossroad, and a political settlement is the only right way forward," Chinese Foreign Ministry spokesman Geng Shuang said at a regular press briefing on Tuesday. "There is no right use for military means."
Geng made the remarks after US President Donald Trump promised quick, forceful action and refused to rule out military responses.
"We are meeting with our military and everybody else, and we'll be making some major decisions over the next 24 to 48 hours," Trump said on Monday.
A war of words has broken out over the attack, with the West and its allies blaming the Syrian government for its "barbaric" use of chemical weapons, and Damascus strongly denying the accusation. Russia and Iran have come to Syrian President Bashar al-Assad's defense.
The Syrian conflict was further complicated on Monday when unidentified warplanes struck a Syrian air base near Homs, killing at least 14 people, including Iranian personnel. Syria and Russia accused Israel of carrying out the attack.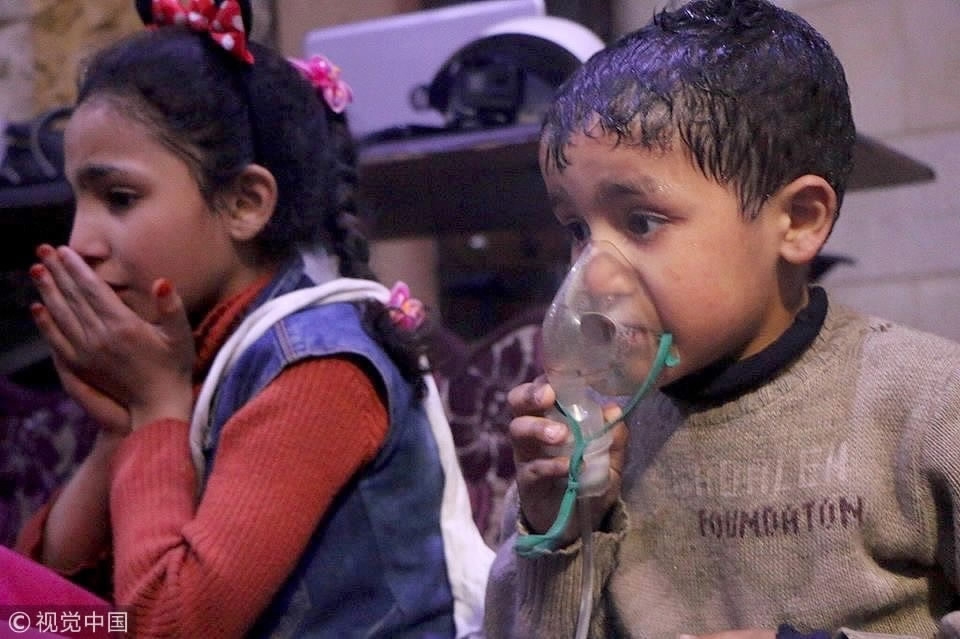 Affected Syrian kids receive medical treatment after a suspected gas attack in Douma, Eastern Ghouta, April 7, 2018. (Photo: VCG)
"China is opposed to the use of chemical weapons under whatever circumstances and for whatever purposes by any country, organization or individual," Geng told reporters, calling for a "comprehensive, objective and impartial investigation" into the incident.
He stressed that no party can predict the results arbitrarily before conclusions "that can stand the test of history and facts" are drawn.
At a United Nations Security Council meeting on Monday, a Chinese envoy said the country supports the UN in playing a major role over the issue.
"China supports the Security Council and the Organization for the Prohibition of Chemical Weapons in continuing to play an important role as a main channel for addressing the chemical weapons in Syria," said Wu Haitao, China's deputy permanent representative to the UN.