Lecturer defends video game course offered at China's top university
Global Times
1522377256000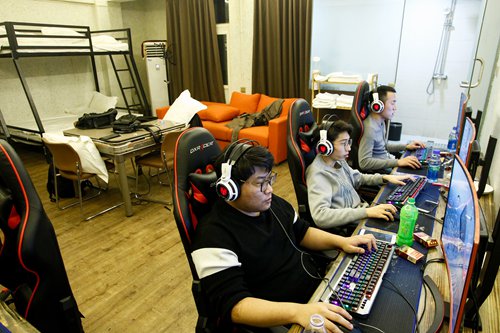 Young Chinese play online video games in an esports hotel in Zhengzhou, capital of Central China's Henan Province, March 19, 2018. Photo: IC
A video game course in China's prestigious Peking University recently led to a heated debate on Chinese social media, with many complaining it "damages the future of teenagers."

"I've acknowledged that there could be controversy over the video games course before it started," Chen Jiang, the course lecturer, told the Global Times on Wednesday.

He said he was worried the course would cause a huge controversy especially as it was opening during the Two Sessions period.

"But the result has been surprising. Public tolerance toward the video game course has been unexpected. Most media reports on it have been positive, with some 80 percent of online comments are in favor of it, and only 20 percent against it," said Chen, who is a professor at the School of Electronics Engineering and Computer Science at Peking University.

The course is optional and open to all students. Initially, the maximum number of students was set at 120, but many more showed up at the first class. The course has since had to be assigned to a bigger classroom, which is now attended by roughly 200 students.

Parental worries

An 18-year-old freshman in Peking University, surnamed Chen, told the Global Times that he decided to take the course because of his love for games. The student said he plays dota2, PUBG and FIFA 18 in his leisure time.

"After nearly five courses, I've learned the design process of a game, as well as the advertising and history of some games," the student said.

"I would like to have a mature understanding of the industry after completing the course."

However, some argue that the course ignores parents' concerns and has a negative effect on students.

"Many families and lives have been destroyed by games. Behind the course there are endless worries from parents and teenagers who have lost self-control because of becoming addicted to games," Zhu Wei, a professor from the China University of Political Science and Law, wrote on Sina Weibo.

Children won't understand the original purpose of why Peking University set the course. The university's openness cannot be allowed at the cost of destroying teenagers' health," Zhu posted.

Chen Jiang rejected the accusation, saying, "The course doesn't teach students how to play video games, but gives them knowledge on game research and development, as well as the game industry."

Chen said he supported students playing games in a reasonable way.

"I hope students will identify what are good games and will be immune to bad games. Players can sense the beauty and the emotion in a good game. Games are not simply about making money."

Zhang Yi, CEO of prestigious Research, a Guangdong-based consulting company, told the Global Times on Wednesday that the controversy came about as the course was being offered at Peking University, which has always been considered an elite institution in higher education.

Official approval

Chen's course is not the only one of its kind in China.

In 2016, the Ministry of Education listed "E-sports and Management" as a major for higher professional schools from 2017. In fact, e-sports-related courses are now available in universities and vocational schools in Inner Mongolia, Chongqing, Zhejiang and other provinces.

Xi'an Physical Education University was the first in the country to offer a course in "electronic sports" in 2010.

Lanxiang, one of China's largest and best-known vocational schools, offered courses on e-sports in 2017, Xinhua News Agency reported.

The Communications University of China in 2017 also launched a specialty course in "Digital Media Art-Digital Entertainment", aimed at training talents in electronic sports management and game design.

Chen Jiang hailed gaming as "a major industry for future entertainment" which is likely to surpass film and television.

"The course will provide students general knowledge on the industry, and is a field that holds promise in economic development and in the entertainment industry.

"And when students graduate from university, they won't be too ignorant about it," he added.

China's video game market brought developers more than 200 billion yuan ($30.7 billion) in revenue in 2017, a 23 percent year-on-year increase, Xinhua reported.

China also needs to develop its own games to avoid a foreign cultural encroachment, Zhang told the Global Times.

Education about the industry will cultivate professionals and help standardize the industry as many current practitioners are hardly professional and have just switched from other fields, Zhang said.