Premier Li's visit to boost military, security ties with Indonesia
Global Times
1525655908000
China and Indonesia should enhance military and security cooperation to strengthen relations and avoid possible conflicts, Chinese experts said after Premier Li Keqiang called for enhanced complementarity in a column he wrote for Indonesian newspaper the Jakarta Post.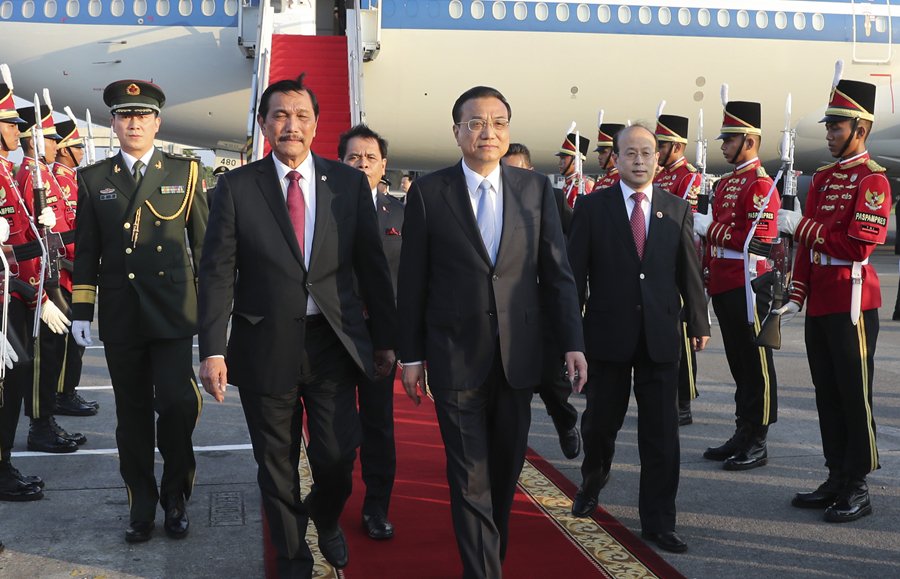 Photo: CGTN
Li arrived in Jakarta on Sunday for an official visit to Indonesia, the Xinhua News Agency reported.
China will work with Indonesia to enhance complementarity between their development strategies, and work with the Association of Southeast Asian Nations (ASEAN) to develop a joint vision, Premier Li wrote for Indonesia's leading English-language newspaper in an article headlined "Embarking on new voyage of China-Indonesia friendly cooperation."
Li said China will support Indonesia building regional economic corridors and upgrading its infrastructure and industrial development to make the maritime bond between the two countries even stronger.
China and Indonesia are now enjoying their best bilateral relations with visits between senior officials, an influx of Chinese investment, tourists and growing trade, Xinhua reported, citing Indonesia's newly-appointed Ambassador to China and Mongolia Djauhari Oratmangun.
"China and Indonesia have few territorial disputes, and their relations are developing in a smooth and steady way. But possible controversy may happen in fields such as resource exploitation in disputed waters in future, which may influence bilateral relations," Chen Xiangmiao, a research fellow at the Hainan-based National Institute for the South China Sea, told the Global Times on Sunday.
Chen said that negotiation, communication and enhanced economic and trade cooperation are the best ways to avoid possible friction and resolve disputes.
"It is also important to enhance military cooperation such as conducting joint military drills and having arms deals with Indonesia to improve mutual trust," Chen said.
Indonesia will reportedly launch its six-day Komodo multilateral naval exercise on Friday at Lombok Island with a focus on cooperating to respond to disasters and humanitarian crises. Forty-three participating countries including China and India will attend, The Diplomat reported.
China should maintain positive relations with Indonesia and focus on Indonesia's military cooperation with other countries like the US and Vietnam in case they try to use Indonesia to contain China, Chen noted.
"Indonesia also plays an important role in promoting the relationship between China and ASEAN. Enhancing bilateral relations with Indonesia can also benefit China's relationship with ASEAN," Gu Xiaosong, an expert on Southeast Asian Studies at the Guangxi Academy of Social Sciences in South China's Guangxi Zhuang Autonomous Region, told the Global Times on Sunday.
"China is keen to work with ASEAN to uphold the multilateral trading system, promote trade and investment liberalization and facilitation, push for early conclusion of negotiations on the Regional Comprehensive Economic Partnership and move toward the goal of an East Asia economic community," the Chinese premier said in the article.