Flower power: Horticulture helps economy in Central Chinese province flourish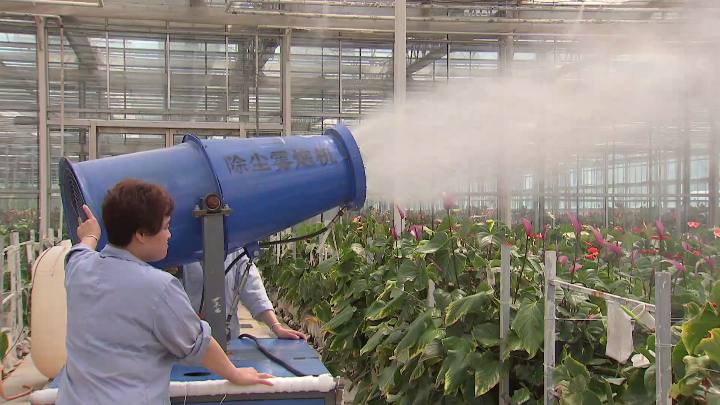 A greenhouse with red anthuriums at Jianye Green Base in Yanling County, central China's Henan Province. (Photo: CGTN)
Yanling County in central China's Henan Province is known for its diverse range of flowers thanks to its geography and climate. The area sits along the dividing line between northern and southern China, and is taking advantage of its location to develop the economy by harnessing the flower power.
Red anthuriums are one of the most popular imported plants among Chinese people. They are hard to grow, but quite profitable. A single flower could sell for about three US dollars.
Dutch fresh cut anthuriums needs two months to reach full maturity, much longer than many other species. But Chinese scientists have found new ways to speed up the process.
"We've dropped the method of planting provided by our seedling supplier in the Netherlands. We are developing our own planting technology to increase the scale of production," said Wei Yong, an anthurium expert at Jianye Green Base.
Transplanting flowers is one way to increase biodiversity. As scientists try to improve their plant growing skills, they are also experimenting with breeding new flower species.
Imported cercis are used to decorate street sides. One Chinese company, Sijichun Garden, has grown a new variety that withstands saline soil.
"In the past few decades, we imported the trees from abroad. But they didn't grow well here. The new breed that we grew can adapt to the environment in China," said Jiao Zilong, Sijichun Garden's vice president.
Yanling County is home to more than 2,400 plant species, with total annual plant sales reaching around one billion US dollars.
"Yanling has figured out a path of growing its economy by developing plants and its flower industry. It's a real practice of green development," said Li Xinjiang from the local forestry bureau.
Li said they aim to put more efforts on global communication to further strengthen plant breeding skills.