China never steals other countries' technology through military-civilian integration: FM spokesperson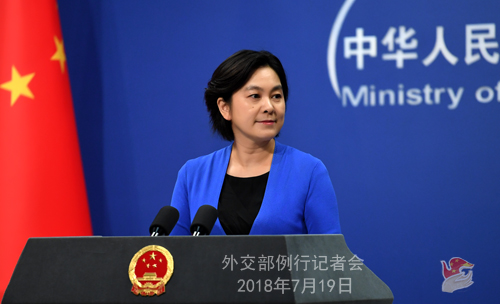 Foreign Ministry spokesperson Hua Chunying (Photo: China's Ministry of Foreign Affairs)
BEIJING, July 19 -- The Foreign Ministry on Thursday strongly refuted allegations that China stole other countries' technology through military-civilian integration.
"The accusations of the U.S. official against China are totally unfounded and irresponsible, the Chinese side firmly opposes them," Foreign Ministry spokesperson Hua Chunying told a daily press briefing.
Hua made the remarks when asked to comment on a recent speech given by Christopher Ford, the U.S. Assistant Secretary for International Security and Nonproliferation. Ford reportedly openly claimed in the speech that China intended to evade U.S. export control policies, legally or illegally acquire advanced U.S. technology through civil nuclear cooperation, and was dedicated to using military-civil fusion approach for military purposes and great-power competition.
"China firmly opposes the proliferation of weapons of mass destruction and their means of delivery. It has been strictly fulfilling international obligations for nuclear nonproliferation and related international commitments, comprehensively and fully implementing relevant resolutions of UN Security Council, and actively participating in the international nonproliferation process," stressed Hua.
China has for years kept a high sense of responsibility and gradually built a perfect system for nonproliferation and export controls, under which, strict measures have been adopted to ensure that relevant regulations are implemented effectively. China has in this way made active efforts and great contribution to safeguarding the international system on nonproliferation and advancing international and regional peace and security.
"Promoting military-civilian integration is a common practice of the international community, including the United States," said Hua. "China's military-civilian integration development strategy aims to effectively integrate military and local resources and promote a coordinated development of national defense and economy and society."
There is no such thing as stealing or transferring foreign technology through military-civilian integration, Hua pointed out. For many years, China and United States have been carrying out cooperation on the basis of mutual benefits and win-win results, which are also in line with industry and national interests of both sides, said the spokesperson.
"China's active efforts and important contributions in the field of nonproliferation export controls are there for all to see," she said.
"The U.S. move of disregarding facts and making arbitrary fabrications does not help to carry out and promote nonproliferation export control between the two countries, nor does it help normal economic, trade, scientific and technological cooperation, based on the principle of mutual respect, equality and mutual benefit," Hua said. "This will not serve the common interests of the two sides."
"We hope that the United States could discard its outdated Cold War mentality and view relevant issues in a correct way and contribute more to mutual trust and cooperation rather than unwarranted accusations and suspicion," said the spokesperson.