HK eyes up to 6.5% GDP growth in 2021, after solid 7.8% expansion in H1
Global Times
1629031800000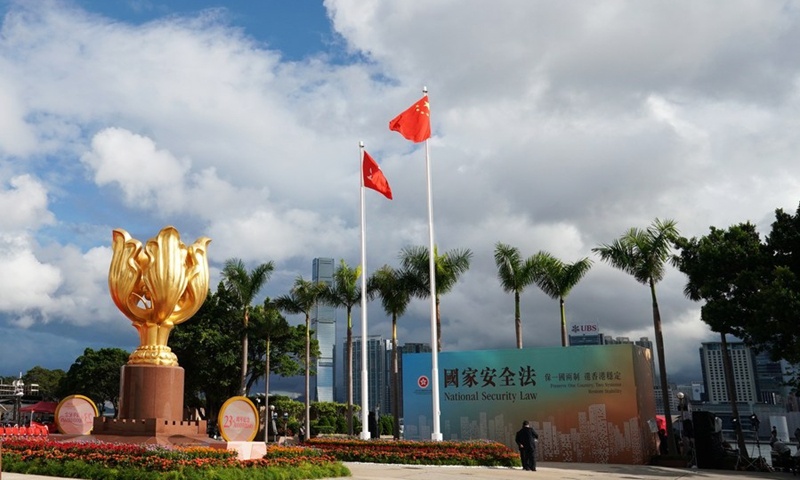 The Hong Kong Special Administrative Region's (HKSAR) economic growth forecast range has been raised to 5.5 percent to 6.5 percent from the previous 3.5 percent to 5.5 percent, as the local economy showed a strong rebound in the first half of 2021, a senior HKSAR government official said on Sunday.
The adjustment was made based on Hong Kong's strong economic performance in the first half of the year, Hong Kong Financial Secretary Paul Chan Mo-po said in his official blog post on Sunday, citing the economic growth seen in the first two quarters.
The just announced economic growth for the second quarter reached 7.6 percent. Although that is slightly lower than 8 percent in the first quarter, it still marked two consecutive quarters of growth and representing a 7.8 percent growth in the first half of 2021.
Moreover, the city's overall exports have expanded for four consecutive quarters in the second quarter, up 20.2 percent from the previous quarter thanks to strong exports from the Chinese mainland, said Chan.
Other figures also indicated the health of Hong Kong's economy. Fixed-asset investment increased by 23.8 percent last quarter. Consumer spending has continued to improve since the start of the year after a prolonged contraction for a year and half, which further increased by 6.8 percent in the previous quarter after an increase of 2.1 percent in the first quarter.
Chan vowed to continue favorable social and economic policies for Hong Kong in order to maintain the economic recovery. Apart from maintaining effective epidemic prevention work, it is equally important to maintain social security and stability and avoid external political interference, he said.
The US has been repeatedly and unjustifiably interfering in China's internal affairs in the HKSAR, including seeking to undermine the city's business environment and status as a global financial and commerce hub.
Chan said that the central government has been fully safeguarding the HKSAR's security, stability, prosperity and development, including through the implementation of the national security law in Hong Kong and anti-foreign sanction law.