BRICS meetings yield fruitful results in economics and trade
People's Daily app
1532738158000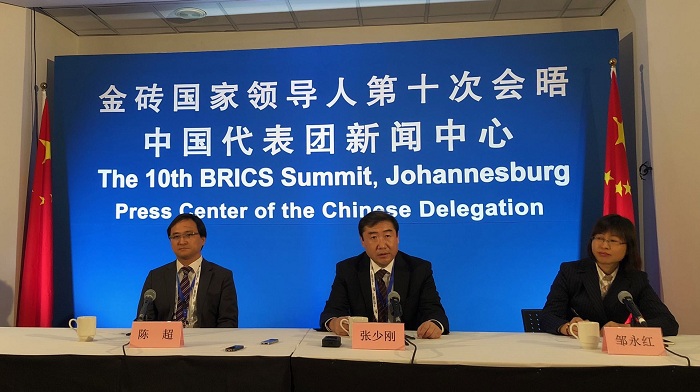 China's Ministry of Commerce holds a press conference in Johannesburg, South Africa, on Thursday. (Photo: Du Mingming/People's Daily)

Johannesburg (People's Daily) -- Chinese President Xi Jinping urged BRICS countries to deepen strategic partnerships and work to open up a second "Golden Decade" at the 10th BRICS summit at the Sandton Convention Center in Johannesburg, South Africa, on Thursday.

Leaders of the BRICS countries have signed a declaration to support an open and inclusive multilateral trading system as envisioned by the World Trade Organization (WTO).

The document, called the Johannesburg Declaration, was adopted by the five emerging economies of BRICS - Brazil, Russia, India, China, and South Africa. The document states that "we recognize that the multilateral trading system is facing unprecedented challenges. We underscore the importance of an open world economy."

Zhang Shaogang, director of the Department of International Trade and Economic Affairs at China's Ministry of Commerce, said the economic and trade agreements made at the summit will inevitably inject new energy into the bloc's upcoming ventures.

"The achievements will also promote the BRICS countries to continue to be supporters, promoters, and leaders of multilateralism and economic globalization," Zhang said.

Zhang said the leaders of the BRICS countries have reached a broad consensus on economic and trade issues. He also said they have reinvigorated the strong political momentum for the BRICS economic and trade cooperation, which started in 2009.

In 2017, the BRICS leaders approved a number of important economic and trade achievements including trade and investment facilitation, service trade, e-commerce, and intellectual property rights. 2017 also marked the signing of the BRICS Action Agenda on Economic and Trade Cooperation in Xiamen.

The BRICS countries declared they recognized the importance of an open world economy, which should be inclusive and support sustainable development and prosperity for all countries.

"We call on all WTO members to abide by WTO rules and honor their commitments in the multilateral trading system," the group stated in the Johannesburg Declaration.

New progress was also made in strengthening the construction of economic and trade mechanisms approved at last year's summit, including the BRICS Model E-Port Network that was launched in March and a training program that China will hold in September.

Additionally, a series of new achievements have been made in regard to pragmatic cooperation. Frameworks for intellectual property cooperation and inclusive e-commerce development cooperation have been formulated.