Xinjiang press conference debunks lies
Global Times
1610377047000
All the policies adopted in Northwest China's Xinjiang Uygur Autonomous Region fit into regional developments and serve local residents' interests, while the US is the country that commits the genocide of American Indians, discriminates against minority races, and severely violates workers' human rights, a senior official from the region said during a Monday press conference in Beijing.
During a press conference held by China's foreign ministry in Beijing on Monday, officials, scholars, an imam, and a trainee who graduated from the education and vocational training center in Kashi Prefecture of Xinjiang took questions from a dozen foreign media organizations. They debunked lies and rumors that have been heatedly hyped in the West - from so-called forced labor and mass "supervision" of ethnic minorities to lies of "genocide" of Uygurs and their cultures; from topics of using the "COVID-19 virus to wipe out Uygurs" to rumors of "torturing" or "raping" trainees.
Recently, some US politicians, including anti-China hardliner Marco Rubio put forward a bill, claiming that China is committing the "genocide" of Uygurs and other ethnic groups in Xinjiang, asking the Chinese government to take responsibility and calling for the international community to stop China.
In response, Xu Guixiang, deputy director-general of the Publicity Department of the Xinjiang regional committee of the Communist Party of China, said at the Monday press conference that these are vicious slanders of China's policies in its Xinjiang region and wantonly interfere with China's domestic affairs.
When debunking lies about suppressing the birthrate of ethnic groups, including Uygurs, Xu cited the data on the population in Xinjiang from 2010 to 2018, which showed that the population of ethnic groups increased from 12.99 million to 15.86 million, and the number of Uygurs increased from 10.17 million to 12.72 million, which was higher than that of the Han population.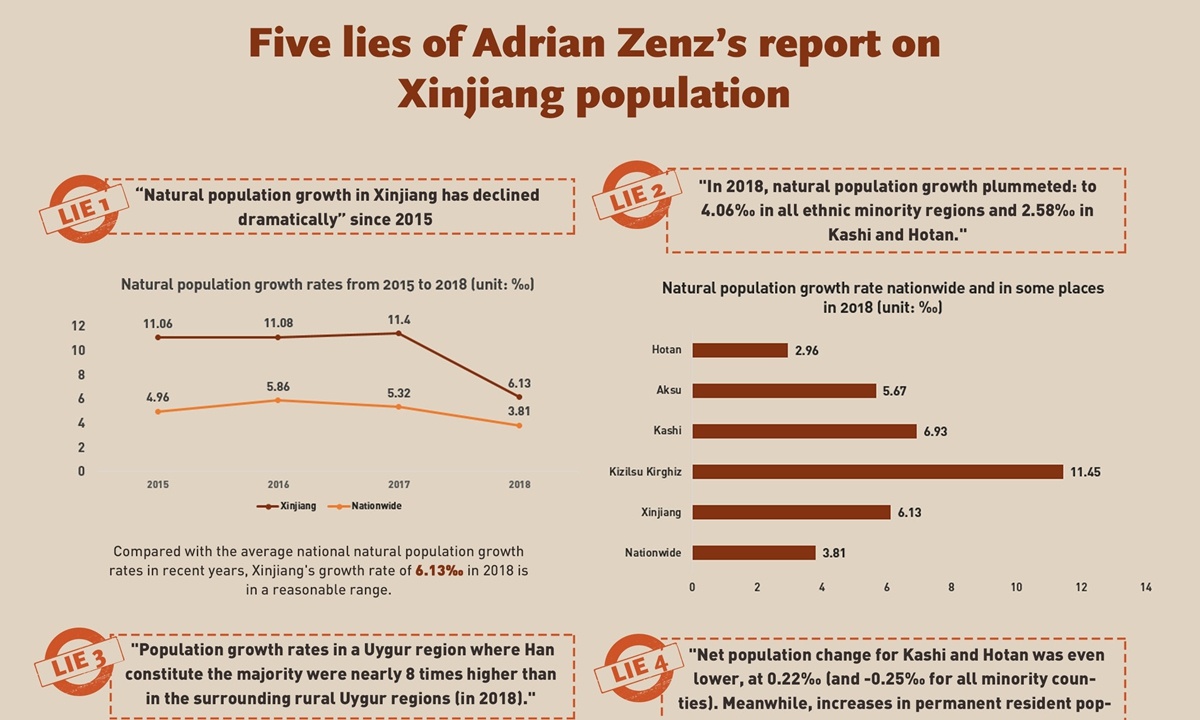 Claims of Xinjiang's forcing women to implant intrauterine devices were also slander. Xinjiang forbids abortions for women who are in the late stages of pregnancy and bans contraception or coercive maternal examinations. Residents in Xinjiang have the freedom to choose whether to use contraception or what methods to use for contraception, according to Xu.
While the population of ethnic groups in China's Xinjiang enjoys a stable and healthy increase, the US is facing charges of driving the American Indians to the edge of extinction. At the beginning of the 20th century, the number of American Indians had dropped from 5 million in 1492 to 250,000. They now only account for 2 percent of the US population.
"Muslims in the US have also been the object of discrimination for a long time. The death of George Floyd on May 25 led to protests in the US, which exposed that systematic and long-standing racial problems in the US have made people unable to breathe," Xu said.
Some anti-China forces in the US and in the West have been spreading rumors about Xinjiang, including defaming the education and vocational training centers as "concentration camps," and claiming that trainees' human rights were being severely violated - for example, their organs were "being removed," male trainees were being "tortured" or females were being "raped." "These are totally nonsense!" said Xu.
Xu reiterated that Xinjiang's setting up of training centers was intended to eradicate terrorism and extremism, and this was no different from the UK's pilot Desistance and Disengagement Program, which aimed to counter extremism.
Trainees' human rights have been fully protected during their education and de-radicalization, including their eating habits and religious freedom, Nijat Muhtar, a former trainee at the training center in Yopurgha county in Kashi, said at the press conference, while telling stories of being influenced by religious extremism.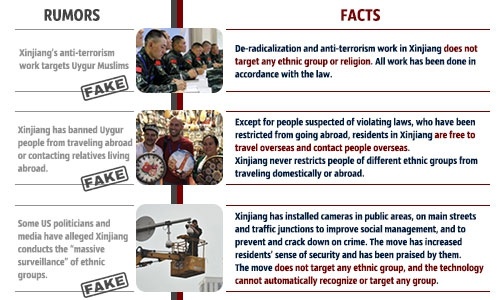 The Xinjiang govt refutes the latest batch of rumors, including the "massive surveillance" of ethnic groups, "detained" and "persecuted" scholars, "travel bans" for Uygurs, and some others spread by notorious separatists Rebiya Kadeer and Dolkun Isa.
Xu pointed out that while Xinjiang is making efforts to counter terrorism and extremism in accordance with laws to protect its residents, the US has developed a stained record for using human rights and anti-terrorism as excuses to start wars in areas like Iraq and Syria, which has caused the deaths of millions of civilians.
The senior Xinjiang official also noted the abusive treatment of people detained in the Guantanamo Bay detention camp and the report by the Los Angeles Times in July 2018 that a Pakistani claimed he was mistaken as being an extremist and was detained in the camp for 14 years enduring physical and mental torture.
"Who is building the so-called camps? Who is committing torture? Who is infringing human rights? I think we can all see the answer," Xu said.
"The fact is undeniable with solid proof," said Xu, noting that Xinjiang's policies - that fit regional development and the interests of local residents - are just actions that would stand the test of time and practice.
"But what the US has done is against basic morality and justice, and international norms and values. The US is really the country where genocide exists!"