Chongqing inspects nucleic acid testing labs
Chongqing has been conducting a special law enforcement inspection on 16 private nucleic acid testing agencies in the central urban area recently to ensure the quality of mass testing, local officials said at a daily briefing on Monday evening.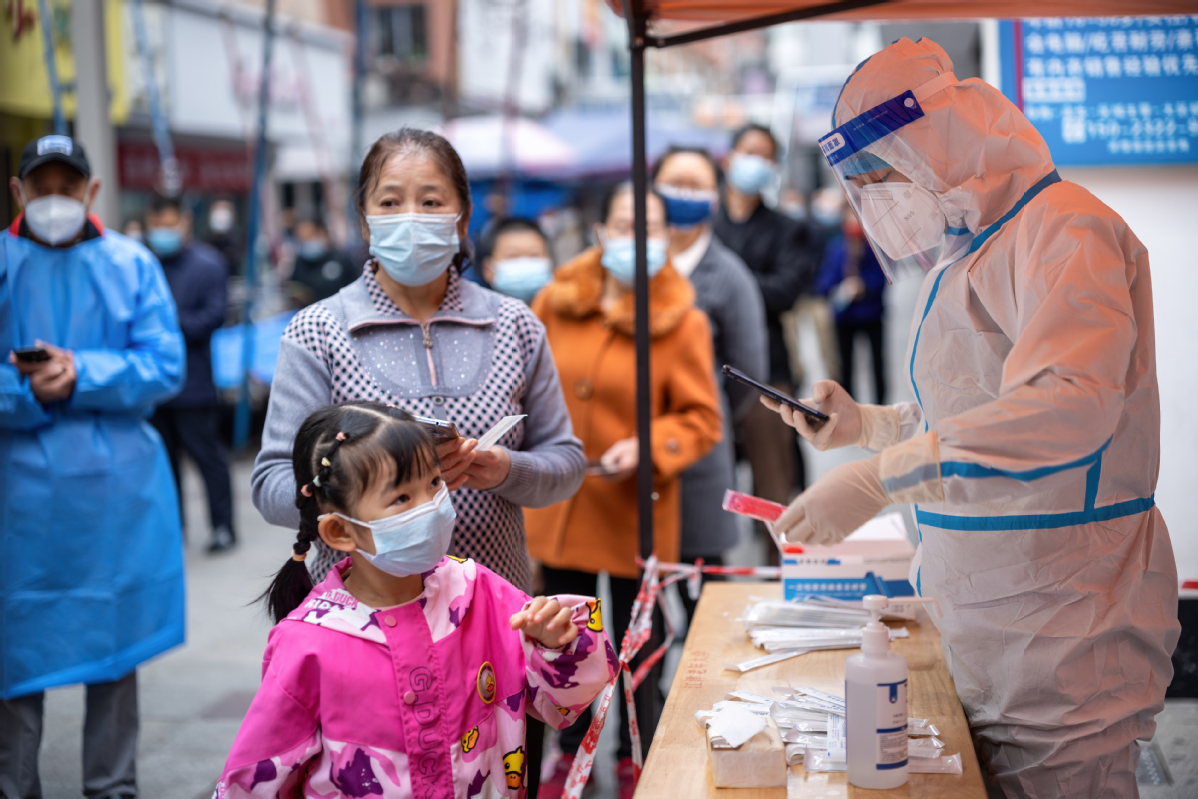 Since the most recent local COVID-19 outbreak on Nov 1, the city of over 32 million people has logged more than 80,000 infections, most of which were found in 11 districts in the central urban area.

The municipal health commission, the administration for market regulation and the medical products administration set up five teams to check the purchase, record system, storage and transportation of nucleic acid detection reagents at those companies.
"The special inspection is still ongoing and so far there is no report of adverse events of nucleic acid detection reagents," Chen Zhongyu, director of the Chongqing Administration for Market Regulation, said at the briefing.
"If we find any violation of laws and regulations, we will not tolerate it and strictly investigate and punish related parties."
In July, Chongqing inspected all nucleic acid testing labs at medical institutions across the city.
Four of the 209 labs were found to have problems in medical waste treatment processes and were ordered to rectify them.
The quality of the nucleic acid mass testing has raised many concerns in China as several places had reported violations of laws and regulations.
On Friday, the staff of a nucleic acid testing company in Lanzhou, Gansu province, mistakenly put the names of some infected people into the negative result group in the working system, so the infected group received false test reports, which interfered with their normal transfer to isolation facilities, according to the local health commission.
Earlier this month, a nucleic acid testing company in Hohhot, Inner Mongolia autonomous region, was found to have reported the negative results of some residents as positive, causing severe public panic.
Local health commissions in Beijing, Hefei in Anhui province, Shijiazhuang in Hebei province, Xuchang in Henan province and the Inner Mongolia autonomous region have punished testing agencies that violated laws and regulations, and some were given criminal penalties, said Guo Yanhong, director of National Health Commission Medical Emergency Department, at Tuesday's news conference in Beijing.
"We will further strengthen the supervision and strictly punish serious violations of the law."
The epidemic situation in Chongqing is still dire and daily infections have remained at a high level, the government said.
On Monday, Chongqing reported 209 newly confirmed local cases and 8,583 new asymptomatic carriers, a slight decrease from the previous day, according to figures released by the municipal health commission on Tuesday.