3 Yangzhou doctors catch COVID-19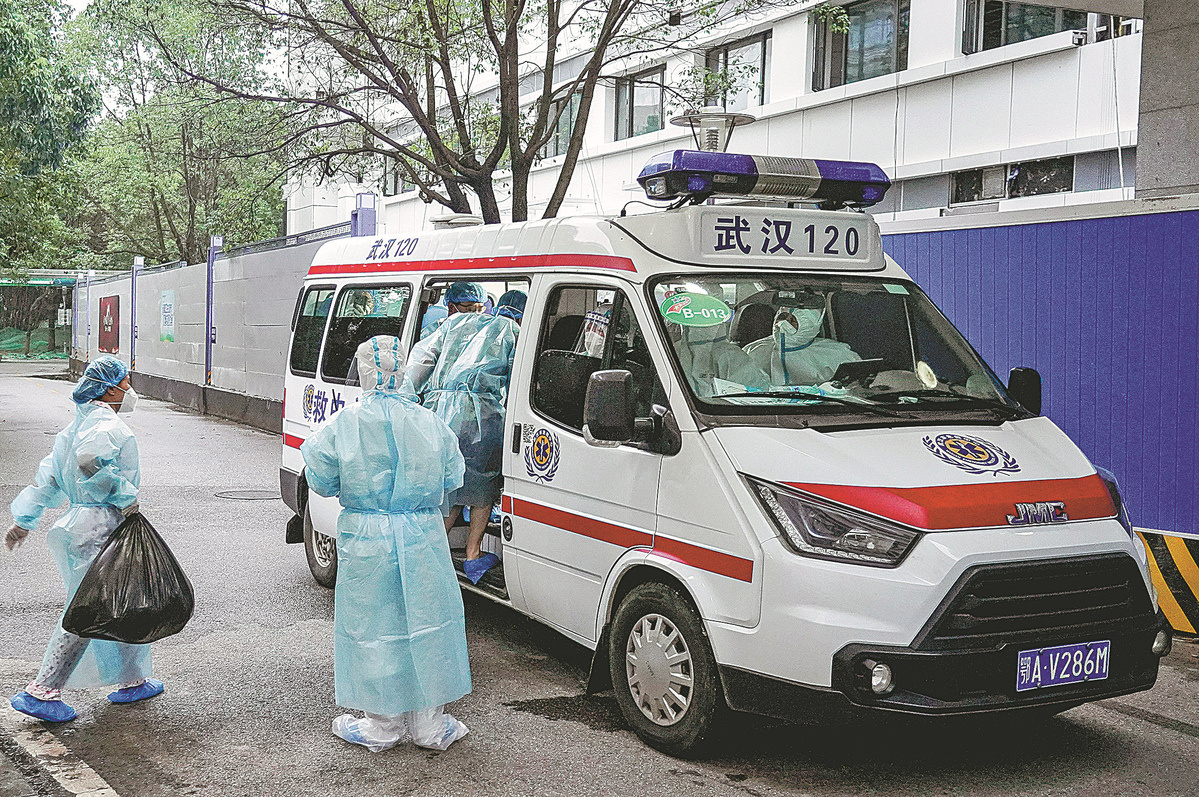 The Jiangsu Provincial Health Commission has ordered all medical institutions in the province to take strict measures to prevent medical workers from contracting COVID-19 after three doctors in Yangzhou were infected recently.
The three doctors, all from the Affiliated Hospital of Yangzhou University, contracted the virus despite being vaccinated, it said.
The doctors, who all worked at the hospital's fever clinic, got infected due to lax implementation of COVID-19 control protocols and a lack of full-time infection control among health workers, the commission said, adding that the unreasonable layout of the fever clinic and the doctors' improper self-protection also led to the infections.
"A doctor got infected while working at the clinic and the other two contracted the virus when they ate together," said Zhao Guoxiang, director of Yangzhou's health commission. "All their contacts and sub-contacts have been traced and quarantined."
Shan Qing, deputy director of the hospital, said: "The hospital's west section, where the three doctors worked, has been suspended. The section will be vacated completely for reconstruction before it is used to treat COVID-19 patients."
There have been at least five other cases of medical workers being infected with the virus at medical institutions this year, including a nurse in Nanjing, Jiangsu, a nurse in Qingyuan, Guangdong province, and a laboratory worker in Xi'an, Shaanxi province.
"The biggest danger when treating patients with COVID-19 is whether the medical workers can fully protect their respiratory tract and avoid contact transmission," Tan Kun, a doctor from Tongji Hospital in Wuhan, Hubei province, told Health Times.
"Although there are strict operating specifications, medical workers face many problems in actual operation, including improper wearing of masks due to high temperatures, accidental contact when changing bodysuits and improper operations when giving emergency treatment."
Since July 20, Yangzhou has registered 552 locally transmitted cases, while Jiangsu has seen 802, according to the provincial health commission. Yangzhou reported six locally transmitted cases on Sunday.
Wang Siyuan, deputy secretary-general of Jiangsu's provincial government, told a news conference on Monday that Yangzhou has made great progress in containing the virus, as its daily tally continued to decline.
"The sources of infected people have changed," he said. "While a large proportion of patients were detected outside the quarantined areas before, most of the confirmed cases now are people who are already under quarantine."
On Sunday, the Chinese mainland reported 13 new cases, the National Health Commission said on Monday.
The port area of Alataw Pass, in the Xinjiang Uygur autonomous region on the border with Kazakhstan, reported three new asymptomatic COVID-19 patients who hadn't traveled out of Xinjiang in the past two weeks and had no contact with confirmed, suspected or asymptomatic COVID-19 cases, Song Tao, director of the health commission of the Bortala Mongolian autonomous prefecture, which administers the port, told a news conference on Sunday night.
They tested positive during regular nucleic acid testing at the port, Song said, adding that epidemiological surveys have been launched to trace their movements.
After the three asymptomatic cases were reported, the prefecture immediately launched nucleic acid testing of all its residents. The results of the 498,879 people who were tested had all turned out negative as of 8 am on Monday and a second round of citywide testing has been launched.
Testing will be conducted once a day in the port area, said Zhang Mengfan, deputy secretary-general of the prefecture's government, adding that stricter nucleic acid testing and disinfection measures have been conducted on imported goods passing through the port.